We all know this f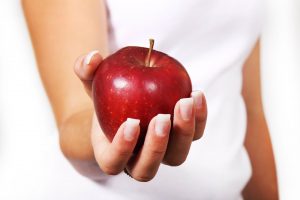 rase, coined from a proverb of Pembrokeshire which originated in 1866. Although research shows that eating the apple it is not necessarily associated with minor medical views, adding apples to the diet can improve various aspects of health.
BENEFITS
The apple is associated with a number of benefits that could help promote long-term health; they are rich in important nutrients such as fiber, vitamins, minerals and antioxidants.
An apple provides:
Calories: 95
Carbohydrates: 25 gr
Fiber: 4,5 gr
Vitamin c: 9% of the daily value
Potassium: 4% of the daily value
HEART HEALTH
Studies show that eating more apples could be associated with a less risk of several chronic conditions, including heart disease.
The presence of flavonoids could help reduce inflammation and protect heart health. Apples are also high in soluble fiber, which can help lower blood pressure and cholesterol levels, both risk factors for heart disease.
ANTI-TUMOR COMPOUNDS
Apples contain different compounds that can help prevent cancer from forming, including antioxidants and flavonoids.
According to some studies, eating apples is associated with a lower risk of developing lung and colorectal cancer, however more studies are needed to evaluate the potential anti-cancer effects of apples.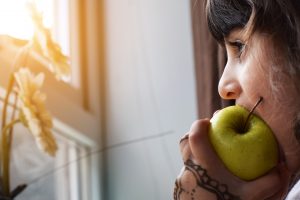 OTHER HEALTH BENEFITS
Apple is linked to many other health benefits:
They support weight loss: thanks to the fibers present, they promote the feeling of fullness, decrease the caloric intake and promote weight loss;
They improve bone health: increase bone mineral density and reduce the risk of osteoporosis;
They promote brain function: help reduce oxidative stress, prevent mental decline and slow down the signs of aging;
They protect against asthma;
They reduce the risk of diabetes.
POTENTIAL DISADVANTAGES
Eating an apple a day is unlikely to harm your health; however, eating more apples a day can cause several side effects:
Increasing your fiber intake quickly can cause gas, bloating, and stomach pain.
Apples contain a good dose of carbohydrates so they should be moderate in case of a weight loss diet.
OTHER HEALTHY OPTIONS
Packed with vitamins, antioxidants, and minerals, apples are a great addition to your diet and can offer several benefits.
However, many fruits and vegetables offer a similar set of nutrients and can be equally beneficial for health.
Also, add more variety to the diet it can increase nutritional values ​​and give more flavor. Here are some fruits and vegetables that you can, from time to time, replace with apples:
carrots
Grapefruits
Mango
Pesche
Pere
Raspberries
Tomatoes
IN CONCLUSION
While eating apples is not actually related to fewer doctor visits, they are packed with nutrients and have many disease prevention and long-term health benefits.
In addition to apples, many other fruits and vegetables provide similar benefits; For best results, enjoy a variety of fruits and vegetables as part of a nutritious and complete diet.
And you, how many apples a day do you eat? Let us know in the comments and follow us on our Telegram channel