La Boswellia, also known as Indian incense, is a herbal extract ofBoswellia serrata tree; the resin obtained from this tree has been used for centuries as Asian and African folk medicine, to treat inflammatory and chronic diseases.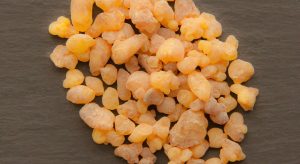 We find its extracts in pills, creams and resins.
What is Boswellia used for?
Studies show it can reduce inflammation and assist in the treatment of the following pathologies:
Osteoarthritis
Rheumatoid arthritis
Asthma
Inflammatory bowel diseases
Other studies show that it can also be useful in the treatment of certain types of cancer, including leukemia and breast cancer.
Boswellia can have interactions with other anti-inflammatory drugs, so always ask your doctor before taking it.
How does it work?
Boswellic acid helps prevent the formation of leukotrienes in the body; leukotrienes are molecules that cause various inflammatory processes and asthma symptoms.
The acid present inhibits 5-lipoxygenase, the enzyme that produces leukotriene. Boswellia has 4 types of acids and the most potent is acetyl-11-keto-beta-boswellic acid (AKBA); the products based on this plant are in fact classified according to their concentration of acids.
On arthrosis
It has been shown to be effective in treating pain and inflammation caused by osteoarthritis.
In a 2003 study, 30 subjects with osteoarthritis treated with Boswellia reported decreased knee pain and increased flexion.
It has also been shown to reduce the levels of an enzyme that degrades cartilage.
On rheumatoid arthritis
It helps reduce joint swelling caused by rheumatoid arthritis and reduces the autoimmune process.
Further research supports its effective anti-inflammatory and immune rebalancing properties, thus making Boswellia an effective therapy against this pathology.
On inflammatory bowel diseases
Thanks to the anti-inflammatory properties of this herb, it can help in the treatment of conditions such as Crohn's disease and ulcerative colitis.
There are many studies underway to understand how the anti-inflammatory and immune-balancing effects of Boswellia can improve the health of an inflamed gut.
About asthma
It may play a role in reducing leukotrienes, which cause bronchial muscles to contract.
This herb has been shown to help the overreaction to environmental allergens that occurs in asthma.
About cancer
Boswellic acids work in several ways to inhibit cancer growth.
They prevent certain enzymes from negatively affecting DNA; Furthermore, Boswellia can fight advanced breast cancer cells and can limit the spread of malignant leukemia and brain tumor cells.
dosage
There are many Boswellia-based products, differing in concentration; always follow the instructions on the package insert and the directions of your doctor.
General dosage guidelines suggest taking 300-500 mg orally two or three times a day.
The Arthritis Foundation suggests 300-400 mg three times a day of a product that contains at least the 60% of boswellic acids.
Boswellia Side Effects
Boswellia can stimulate blood flow in the uterus, speed up the menstrual cycle, and induce miscarriage in pregnant women. Other possible side effects include:
Nausea
Acid reflux
Diarrhea
Skin rashes
Its extract can interact with some drugs such as ibuprofen, aspirin and other non-steroidal anti-inflammatory drugs (NSAIDs).
Have you ever tried this plant? Let us know in the comments and also follow us on our Telegram channel

SUBSCRIBE HERE TO THE TELEGRAM CHANNEL