We interviewed Omar Lannunziata, one of the CrossFit exponents in Italy and organizer of some important races.
How did you approach CrossFit? How have you generally approached the world of sport and with what discipline?
They are Omar Lannunziata Owner and Headcoach CrossFit Whitehand, Torino FIPE provincial delegate, organizer and founder of Torino Challenge and Lift & Drop. I approached the world of sport with combat disciplines, for which my preparation was very similar to the CrossFit methodology, even if not so well structured. This is why in the 2011 I decided to devote myself to CrossFit full time and I wanted to create my own Box, which is one of the pioneers in Turin: CrossFit Whitehand.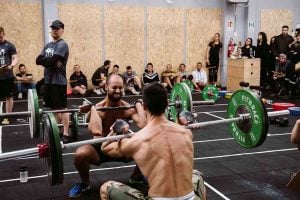 Would you like to talk about your personal experiences and the organization of competitions, events and competitions?
Of course, in the 2012 in collaboration with Ivan Greppi (owner CrossFIt Badbox) I organized my first competition. They were present 60 "athletes", I put it in quotation marks because perhaps we could not yet be defined as such, or in part yes. It is clear that if I think about what happens today in competitions, even the smallest, at the time our level was decidedly low.
In any case, every six months we organized a fixed appointment that more or less always saw the same number of athletes present. It is then in the 2016 that the project of a was born new format, what is called ONE2ONE Challenge. This is a competition with categories, three live qualifying workouts, after which we move on to knockout matches. It follows a little the scheme of combat sports. The format worked right away, the second year they registered well 688 athletes from 4 nations and more than 120 boxes CrossFit.
In the following years the idea began to tire, the athlete complained that he was lucky enough to find the right opponent, the workout that was within everyone's best abilities, and obviously it was not easy. That's why for this year, we come to the fourth edition, and having seen the dozens of races in Italy, I decided to take a step back and give all participants the chance to participate in a race Traditional.
There will be 320 athletes at Primo Nebiolo Stadium in Turin on the days of 15 and 16 June 2019. For the first time in Italy, a competition is able to collect the adhesions of 10 adaptive athletes from all over Italy, so it is a huge thanks to Andrea De Beni and Luca Casciello and their Adaptive Academy project.
Another very important race that I organize, the only one of its kind in Italy is the Lift & Drop, in collaboration with Luca Rabbia (owner CrossFit Contamination). In detail, it is a competition that pits CrossFit athletes and Weightlifters from all over the nation through the use of only the outrigger.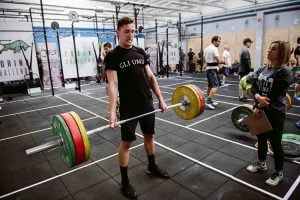 What advice do you feel to give to those who want to approach this sport?
I think it is a world to be discovered, that does not give anyone any discounts, indeed, that often puts you in front of the harsh reality, your weaknesses. The nice thing is that the group is a shield and helps you overcome them. It is a world that brings out your character and makes you stronger, not only physically, but also mentally. The dispassionate advice I can give is absolutely that of never give up!
What is the athlete you saw live and who most impressed you?
Stefano Migliorini at the 2017 Italian Showdown, an engine like this ... never seen before!
What do you think about the spread of CrossFit in Italy?
I believe it has spread so lightning and for this we all deserve a big applause. I think it is a company to all intents and purposes, but at the same time unfortunately sometimes I realize that it is losing control a bit, there is no solid "political" structure that can guarantee safety in sharp pits and if CrossFit Inc does not do anything it risks losing many.