La Vitamin E is a nutrient that acts as an antioxidant in our body; it exists naturally in some foods and is sometimes added to others.
This vitamin exists in 8 chemical forms; alpha-tocopherol it is the form that best meets man's dietary needs.
It is a fat-soluble nutrient, it is then absorbed and moves through the body to fat; he comes stored in the liver and in adipose tissue and is used when needed.
Benefits
Vitamin E offers help for several conditions:
Oxidative stress: the process of oxidation and premature aging occurs in our body when cells are exposed to molecules called free radicals; they weaken and destroy healthy cells and can contribute to chronic health problems such as heart disease and cancer. Antioxidants help neutralize free radicals, protecting against cell damage; it is a powerful antioxidant and many studies are underway on how it could play a key role in alleviating several chronic conditions.
Diabetes: the diabetes is a chronic condition involving the insulin resistance and is linked to increased oxidative stress in the body; there seems to be scientific evidence that vitamin E helps to delay the onset of the disease and relieve its symptoms.
Leather: Vitamin E is a common ingredient in cosmetics for mature skin and is often used in wound healing products; it helps protect the skin from environmental stressors and has photoprotective properties, thus helping to protect the skin from damage caused by sunlight.
Vitamin E dosage and intake
Vitamin E deficiency in healthy people is not very common as most people get enough of it from the foods they eat. The recommended daily amount is:
0-6 months: 4 mg
7-12 months: 5 mg
1-3 years: 6 mg
4-8 years: 7 mg
9-13 years; 11 mg
14 years and up: 15 mg
Although a vitamin E deficiency is rare, people with cystic fibrosis and Crohn's disease may need to supplement water-soluble vitamin E; Before taking vitamin E supplements, always contact your doctor and / or nutritionist.
Foods that contain vitamin E
When it comes to getting nutrients, it's always better to get them through nutrition rather than supplementation. Among the various rich foods we include: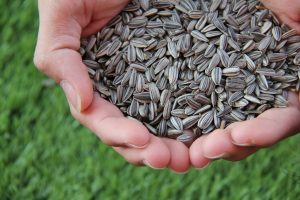 Overdose
Although an overdose is unlikely, taking high doses of this vitamin through supplementation can cause serious side effects:
increased risk of hemorrhagic stroke
increased risk of prostate cancer
For most people who use vitamin E supplements, you must not exceed 1000 milligrams per day.
Drug interactions
Vitamin E can interact with some medications:
anticoagulant drugs
antiplatelet drugs
simvastatin and niacin
chemotherapy and radiotherapy.
Have you ever taken this vitamin as a supplement? Did you know the benefits? Let us know in the comments and remember to follow us on our Telegram channel
SUBSCRIBE HERE TO THE TELEGRAM CHANNEL