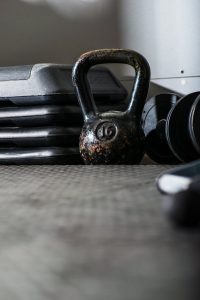 I'd like to start with a catchphrase like: kettlebells, you either love them or hate them.
In reality, we all love kettlebells. They give variety to workouts, KB exercises are often less "dangerous" than their barbell equivalents, they saved us from closed gyms during the lockdown, and then ... they are a great doorstop.
(Joke. Although I must admit that I use my first 4 kg ghiria as such, because it is too light for me now)
How to do the kettlebell thruster
Easy. Indeed, very easy:
start standing. Pick up two kettlebells and bring them in rack position
elbows must be close to the body
the palms of the hands are facing forward; you can alternatively keep your hands in a neutral grip, with the palms facing each other
you squat in bottom position of a squat
do a squat is…
... take advantage of the push of the legs for perform a full extension of the arms and bring the KB over your head.
This is a rep.
To return to the starting position, return the tools to rack position, and only then begins the next rep.
Warnings for running a good thruster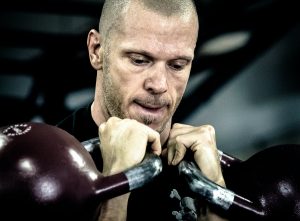 First of all, breathing. Going down in bottom position you inhale, while the exhalation occurs with the explosive upward movement.
Then, fluidity: makes sure that the sequence composed by the reps is as fluid as possible. You may find it helpful to do a series of warm-ups without weights.
Last warning: when you are in full extension, pelvis, shoulders and arms are aligned.
Why do kettlebell thrusters?
Because the benefits are so many:
they increase coordination and balance, especially as you move towards more important loads.
puts different muscle groups to work, so much so that it is practically a full body exercise. In particular the core is tested, as it must generate sufficient stability to manage the movement of the kb
makes i work stabilizer muscles of the upper body: from those who have to balance the kb in the rack position, to those who have to hold them up when their arms are extended.
allows you to squat down even for those who are unable to do so with a barbell loaded on their back, because it allows greater freedom.
it's a excellent conditioning and endurance work, therefore…
... helps burn fat
When to use the kettlebell thruster
Given its conditioning attitude, the thruster is a great exercise to include in HIIT circuits, and in the more "cardio" versions of WODs (EMOM, AMRAP).
If you are working in "weight room" mode, you can use thrusters to end a workout by accelerating the cardiovascular system and thus burning that handful of extra calories.
Ps. By the way. If, on the other hand, you are one of the haggard sportsmen who don't like kettlebells, write it in the comments… and we'll see what we can do to make you change your mind!
We have activated a lot of discounts on Amazon: from 30 to 70% on all sports categories! It's all on our dedicated channel ????
SUBSCRIBE HERE TO THE TELEGRAM CHANNEL