One of my biggest dreams (as a true CrossFit® enthusiast) is to go avsee one of the live races, even better if it were the final of the Games.
To do this, two things would be needed: money and programming.
Here, for the second problem there is the solution! They have been released the dates of the Open and Nobull CrossFit® Games 2022, so if you also want to organize a trip you can start thinking about it and planning everything!
In addition to releasing the date calendar, CrossFit® has also announced some changes for the teen, masters and adaptive categories for the coming year.
What has changed in the Nobull CrossFit® Games 2022
Previously, these divisions obtained their seats directly in the online qualification phase; now, instead, they will have to go through the semifinals to enter the event.
In this way, the modalities approach the model of the elite athletes of the competition. The first step, therefore, will be approval through Open 22 which will start on February 24th and end on March 14th.
Visualizza questo post on Instagram
CrossFit® Open 2022: how it will unfold
For those interested, the opening for registrations to theOpen will open as early as January and will run for three consecutive weeks. Those who want to participate can, therefore, already guarantee a place at the beginning of the year.
Instead, the phase of the Qualifier will start on March 24th and run until April 24th; this phase will be dedicated to all the athletes who will have the best performances in the first phase of the 2022 Open.
Le semifinals will take place in May and July. By the way, early June and the last days of July will be the days dedicated to Last Chance Qualifier, for those who do they are almost classified.
Interestingly, this is the last chance to win an invitation to Madison ... those who don't pass this stage sadly won't go to the Nobull CrossFit® Games 2022.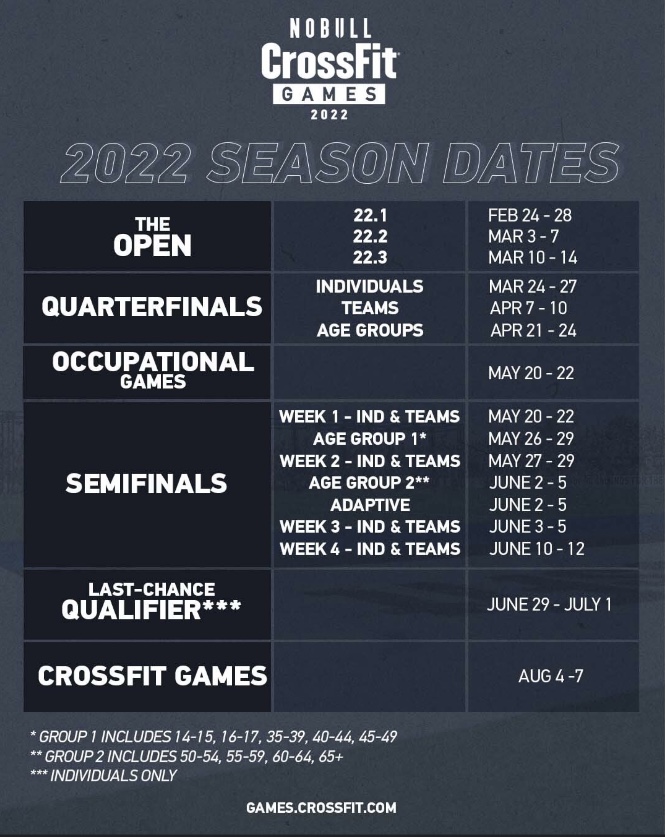 However, management hasn't specified how many vacancies there will be for each region / nation so far, but it looks like they could be the same numbers we've had this year.
For 2022, the CrossFit® Games will take place from 4 to 7 August 2022
By the way, all phases are an opportunity to test yourself, both for an athlete and for a CrossFit® practitioner, so be all ready I recommend!
Anyway, we have activated a lot of discounts on our Telegram Fitness & Sport channel: from 30 to 70% on all sports categories! Find it all here