When consumed without thinking, sugar is one of the worst things to introduce into our body; on average, a person takes 25 teaspoons of sugar a day; this corresponds to about 400 kcal deriving only from sugar, more than 3 times the recommended daily intake.
The excessive consumption of sugars goes beyond the simple caloric intake, in fact, it has an impact on the organs of the whole body, in particular the heart and liver.
Let's see together some ways to reduce your daily sugar intake!
Stop "drinking" sugar
Le Sugary drinks are rich in the worst kind of sugar; there is an undeniable link between soda and the increased risk of chronic diseases such as obesity, heart disease and diabetes.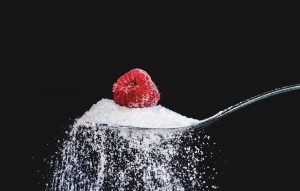 Il National Institutes of Health reports that sweet drinks are the third source of calories in an average adult's diet.
Il body does not dispose of calories from drinks in the same way as solid foods; these calories are absorbed quickly, causing blood sugar levels to rise rapidly.
If you really can't do without drinks other than water, you can flavor it with herbs, fruit and vegetables, obtaining a healthy and refreshing drink.
Eat non-starchy vegetables
Le vegetables are essential for a healthy diet, but not all are the same; some contain more sugar than others, which is key when trying to reduce body fat and improve overall health.
Le starchy vegetables, as the name suggests, contain more starch, a type of carbohydrate that the body breaks down into glucose; they also contain less fiber and do not contribute to increasing the sense of satiety.
Among the starchy vegetables we have: beets, turnips, carrots, corn, potatoes, peas, pumpkin; among the less starchy vegetables, to be preferred, we have: artichoke, cabbage, broccoli, cucumbers, asparagus, onions, mushrooms, salads, aubergines, peppers.
Eliminate junk food
Not having temptations at home helps to drastically reduce sugar intake; Out of sight out of mind!
Several researches have shown that keeping unhealthy cookies, snacks and snacks at home increases the chances of having weight problems and failing to pursue a weight loss diet.
Read the labels

Although sugar exists naturally in some foods such as fruit and milk, the added sugars they are often introduced during the production of many foods.
There are different forms of sugar and many names to call it: sucrose, glucose, lactose, fructose, dextrose, malt, cane juice, corn syrup etc.
Care must be taken to always read them well nutritional labels of all the foods we put in our shopping cart, to avoid buying prepackaged foods rich in hidden added sugars.
Eat more protein
Protein is a key macronutrient for reducing sugar intake; a high protein intake helps keep blood sugar levels constant, which helps prevent cravings.
Proteins trigger the production ofPYY hormone, which helps to tame hunger and improves the sense of satiety.
Sleep well
Un adequate sleep is the key to optimal health; poor quality sleep correlates with obesity, poor concentration, depression and impaired immune function.
Sleep habits can also affect the type of food we eat, making us more likely to choose foods that are high in sugar, salt, fat and calories.
How much sugar do you eat during your day? Let us know in the comments and remember to follow us on our Telegram channel

SUBSCRIBE HERE TO THE TELEGRAM CHANNEL