If you have followed ours live Instagram with Neil MacLeod you already know that there are 12 Italian master athletes who are ready to leave for Aruba, to compete in the World Championship of IF3.
We took the opportunity to ask some questions to our athletes at the start, to understand how they are preparing and what emotions they are experiencing in this period.
Today we have as guest Antonio Bruno, coach and box owner of CrossFit® 42 15 as well as master athlete 35, who will represent our country in Mexico.
Hi Antonio! Thank you so much for giving us this pre-departure interview! For those who don't know you: tell us who you are and what do you do in life?
Hi everyone! Thanks to you for the opportunity to tell a little about my background. My name is Antonio Bruno, I am 39 years old and I have been a competitive athlete since 2013/14.
In life I am a personal trainer and I am the owner of the CF 42 15 box, which I opened in 2017 in Termoli.
Did we know that in addition to being a coach and an RX athlete, maybe you also have some experience as a judge?
Yes it is… even if I have never judged in the competition. I always make updates and this allows me to always stay abreast of new movements and standards.
In short, it is something that is also needed in the classroom ... as a coach I have to correct the movements and have a careful eye on the technique, to prevent the kids from getting injured!
Of course, it is very useful! Speaking of workouts… can you tell us about your workout routine?
I try to train every day, possibly dividing the daily sessions into two even if for obvious reasons it is not always possible.
However, we have noticed that you are collecting participation in major competitions, both national and international ... is there any that has marked you more?
For me, all races are important!
I face them with the utmost respect and determination regardless of whether they are in England, in America or behind the house.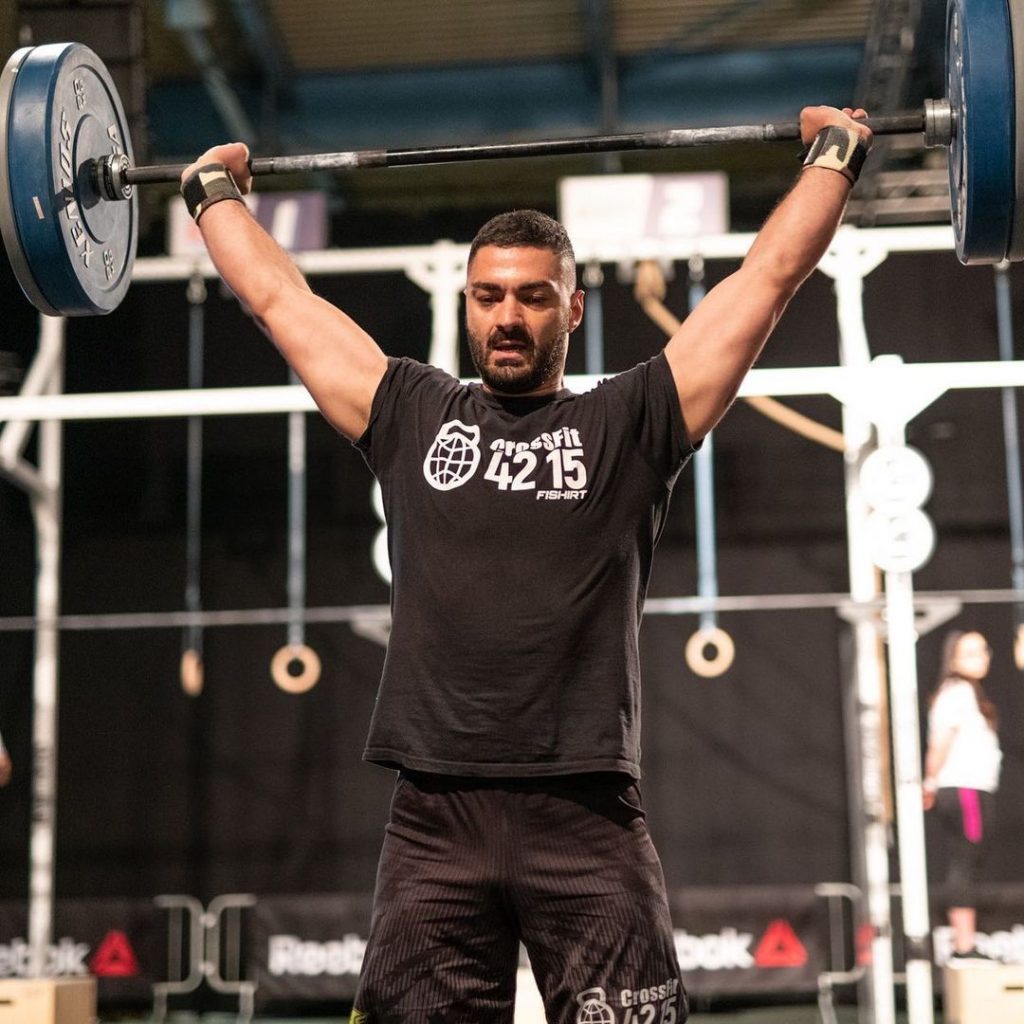 Some of these races are very intense and close together (like ww4 mori and immediately after Madrid Championship, October challenge and so on), we wonder how do you do them all?
So, let's say I found myself with postponed competitions during the covid, which I had already signed up for. For example, theAthens Throwdown, even though I didn't go there because I got sick in those days.
Then there were other races that I couldn't say no to, because I was invited, like the ww4 died. Plus there were races that I just didn't want to miss out on like the Madrid and London.
Let's say that coming from football, I'm mentally used to facing one competition a week. Obviously, CrossFit® is different because you have to do a whole series of pre-race preparations, so let's say that this season what I did was not exactly the best of annual management.
But I am like that ... to me as long as the head accompanies me, the body follows! Then I confess that I went through a not-so-happy period so competing helped me to get distracted a bit.
A few things added up, which led me to always stay there on the floor… Fortunately my body held up too so that's okay!
We are sorry for this bad period… but at least there has been some good news! You received the invitation for the IF3 World Cup… how was this path?
Then Affi's path, as far as the Master category is concerned, was a bit controversial! In the sense: we did the whole process, which also the Elite athletes did.
So we did the first affiliated races, then the winners went directly to make the final in Modena and the first three from Modena, theoretically, received the invitation for the World Cup.
But this only concerned the Elite while for the Masters, nothing was known. In the end they invited the top 3 in the standings and well, there was definitely a lot of satisfaction and happiness in being able to realize this project.

How are you preparing yourself and what are the sensations of competing among the best in the world?
The preparation is always the same. Of course, we Masters may have other professions or families, so it's not easy.
Let's say that among the thousands of commitments we try to do our best. I am lucky enough to have the CrossFit box so I can keep the daily routine of the two sessions or a longer session, in such a way that at least I can get as competitive as possible.
The sensations are beautiful because, regardless of whether you wear the Italy shirt, you go to the other side of the world anyway! I mean, you go to a world final and so it's always exciting, isn't it?
We are curious .. by any chance do you have any "pre-race ritual" that helps you stay focused?
I have no pre-race rituals ... I'm not superstitious! Concentration is usually found a few moments before the countdown at the beginning of the workout.
So no, I don't follow various routines or séances [laughs].
As for nutrition, on the other hand: do you follow a specific diet?
Yes, I follow a diet or at least I should follow it [laughs].
In fact, I have a nutritionist who follows me; it is really complicated to maintain the diet, but I try to do my best, come on!
Just to finish, can you tell us what are your next races?
I have so many planned, I don't even know where to start!
Immediately after the World Championships I do the Fall Series, then I qualified for Modena and in January I think I will qualify for Athens so yes… you will see me again in various competitions!
Thank you so much Antonio for these beautiful words and good luck for all your projects! If you don't want to miss any of Antonio's races, remember to follow him on IG: @ antonio1bruno