This year there is a name that resonates on the national and international stages of our beloved sport. A crossfit woman who has a lot of grit to sell: let's talk about Chiara Salandra.
We have seen it fight with all his might at the Wodapalooza 2022 together with his team mates Antea Longo and Marta Ricottini, even if, for personal problems, the team had to leave the competition before the finals.
Now she has conquered another great achievement: she went straight to the Semifinals of the Games! With an incredible 25th place in the European world rankings!
Well, what about? Chapeau!
Today she tells us about CrossMag in an exclusive interview! We took the opportunity to ask all those questions that you readers often ask us.
Let's get to the point: who is Chiara Salandra?
His journey began in 2017 and in just 5 years he has already achieved great goals. Today he competes as an elite athlete, he is 25 years old, trains and coaches at CrossFit® 2 Pairs in Milan.
His coach is none other than Andrea Barbotti and with him follows the programming of ONAIR.
You want to know more right now? Read the interview below:
Hi Chiara, it is a pleasure for us to have this chat! Can you tell us a little about your background? How was your passion for CrossFit® born?
Hello everyone! Well then… I've always been in sports since I was five, I started with gymnastics, then moved on to swimming, cycling, volleyball, dance, bodybuilding and finally found my true passion and path in CrossFit®.
I have always been passionate about sport in general, but none of those I practiced took me to the point of continuing and setting higher and higher goals.
I needed constant stimuli, and something that was never the same, that would place you in front of a constant challenge and never lead you to "settle".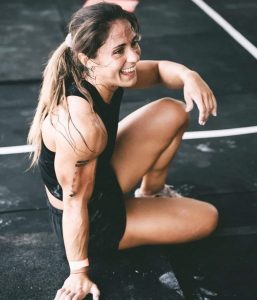 I started hearing about CrossFit®, and, not understanding what it was, I inquired to understand what it was. I discovered that there were certified centers to be able to practice it, that it was a varied, testing, hard and constantly evolving sport.
From there I said, ok I have to do it! So I looked for a box and started. I did the classes initially, and I was a landslide, I spent every end of the lessons wondering why I was not able to do certain exercises, which perhaps I was not capable, capable of.
I have a clear memory of one of my first lessons in which I cried trying and trying to get the med-ball to the target and almost never succeeding.
But then I would go home and say < >.
So it was for every exercise, every obstacle that I encountered day by day in this path, up to today where nothing has changed, every day there is a new challenge to face a new difficulty and a new goal to achieve, and this is what I love most about this sport!
Definitely a good story, definitely inspiring for other guys who are facing the same feelings as you. Seeing you like this today, with relatively few years of CrossFit but so many accomplishments, is a source of pride and inspiration for all of us. Is there any race that has marked you the most?
No race in particular that has marked me, but I believe that every race made to date has left me a lot to work on and taught me how to manage and face the subsequent races, not only from a physical point of view, therefore athletic, but a lot and especially from a mental point of view.
Of course… now let's talk about the Games: 25th overall in the Quarterfinals! Are we curious to know how it went? What were your feelings?
Twenty-fifth in Europe, a result that I hoped to achieve but certainly unexpected. I was aiming to qualify for the semifinals, and getting there in the standings was a double goal.
With my coach we prepared to get to the quarters as best we could, trying to be ready for whatever might happen.
I tried to give my best, I only thought about the "here and now"; to give my 100% to every wod regardless of the result.
And you did it! As for your room for improvement… Did you feel in trouble in any Quarter wod?
I already knew that I would have difficulty with the ceiling of clean, I did my best even knowing that it wouldn't be good as a result, but I didn't focus on that.
I thought about all the events and not to affect the other workouts for a bad result.
In wod 1 you finished 3rd overall, you beat legendary women of our sport.
What did you think? How did you react seeing the ranking?
My favorite was the WOD 1! Because I found all my favorite elements combined in one workout, so no matter how heavy it was, I couldn't wait to do it and try it.
I didn't think I could get such a good result and when I saw the ranking I couldn't believe it. It must be said that we worked a lot with my coach on those elements and it proved that hard work over time always pays off.
It would have been unthinkable a year ago to think of similar results, I still had too many gaps and very lacking points, which in this year we have tried to fill.
So I am happy and incredulous about this result and how the quarters went but happy and aware that we can all improve, and we can all do it.
You said well, hard work pays off! And in which semifinal will we see you and what do you expect?
I'll be in London at Strenght in Depth!
I don't know what to expect but I know that I will do my best to prepare myself for this competition. I will try to give my best and this will be the thing that matters most; finish each workout with the knowledge that I could not have done more.
If that's not enough, I'll go home and work harder than before to continue pursuing my goals.
How are you preparing for Strenght in Depth?
For the preparation I did not vary much either from the point of view of nutrition / integration, or from the point of view of training.
Changing around a race without knowing the reactions my body might have would not be a good idea. I continue to follow my program which is already structured for the semifinals, with loading and unloading periods.
As for the power supply, it will vary close to the competition where I will go slightly unloading and continue to integrate as I have done up to now.
We can only wish you the best. Just to close, can you tell us what your goals are for the 2022 season?
For now, the semifinals are the main objective, from here on I will evaluate together with my coach which competitions to choose and what to do!
Thanks Chiara! We hug you tightly and will cheer you on in the Semifinals. Guys follow Chiara Salandra on social media so as not to miss any news on his goals!
Thanks to CrossMAG for this interview and for the opportunity. I also extend a big greeting to the readers of the magazine, reminding us that we all have the right to dream and set ourselves goals to achieve.