On October 22, 2021, the bronze medal of the CrossFit® Games Kari Pearce has announced her retirement from CrossFit® after seven years of sporting activity.
His competitive career began in 2015 when he made his Games debut. Over the next seven years, she became a mainstay of elite competitions, racking up several podiums in top-tier races.
In 2020, it became the first American woman to reach the podium of the CrossFit® Games after Julie Foucher's bronze medal in 2014.
Kari Pearce shared the news of her retirement on her Instagram page and included photos of the moments she believes are the best moments of her CrossFit® career.
Take a look below:
Visualizza questo post on Instagram
Pearce's decision to lower the curtain on her competitive CrossFit® career was made in order to fully dedicate herself to her business: PowerAbs.
PowerAbs is Pearce's 30-day schedule of 10-minute daily abdominal workouts.
"Every athlete reaches this point in their career and it is time for me to fully focus on my activity."
Kari Pearce's CrossFit® Career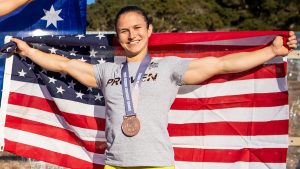 Pearce was crowned four times America's Fittest Woman (2016, 2018, 2019, 2020), competed seven times in the CrossFit® Open and has been out of the world top 20 only once, in her debut in 2015 when she was ranked 108th.
If there was a CrossFit hall of fame, Pearce's career would likely be worthy of inclusion. In her seven trips to the biggest CrossFit® stage, she has finished in the top 10 five times, including two fifth places in 2016 and 2019 and a sixth place in 2018.
Ha had to withdraw from Games of 2021 due to a positive test for COVID-19.
Highlights of Kari Pearce's career
In her Instagram post, Pearce shared a highlight from each year of her CrossFit® career:
2015 - Pearce debut in CrossFit® Games. Her parents were competing to support her.
2016 - Wins the event "Murph"At the 2016 CrossFit Games, where he also received the"Most Improved ". She finished fifth overall, an improvement of 16 places from her 21st place in 2015.
2017 - Represent the United States at the 2017 CrossFit® Invitational in Australia. The US finished third with 10 points after five events.
2018 - Wins the heat for the event "Fibonacci"At the CrossFit® Games 2018. Her time of 3: 40.58 was strong enough for second place overall in the event behind Katrin Davíðsdóttir's 3: 31.73.
2019 - Wins the event "mary"Ai CrossFit® Games 2019 with 695 repetitions.
2021 - Compete in the semifinal of West Coast Classic CrossFit® with teammates Danielle Brandon and Bethany Shadburne. They finished on the podium together: Shadburne in first place, Pearce in second and Brandon in third.
While he didn't mention it in his Instagram post, one of the highlights of his CrossFit®Games career is probably the final event of the 2020 Games, Atalanta.
Pearce was the first athlete to finish that event, also beating male opponents with an incredible time of 47: 56.68.
When he started wod Atalanta, he knew he needed to beat Haley Adams by at least two positions to claim a spot on the podium and he did it!
Visualizza questo post on Instagram
2021 Rogue Invitational
Choosing Kari Pearce of the 2021 Rogue Invitational as the final event of her competitive CrossFit® career is smart.
Competition is one of those with the highest prize pools of any other prize competition (Games aside).
First place winner will receive $ 1,458,346 upon publication of this article. This amount may increase as more tickets are sold.
The WODs have just been released and you can see them here:
Visualizza questo post on Instagram
Here are Kari Pearce's farewell words:
"2021 [Rogue Invitational] will be the last time I step onto the CrossFit® competition field!" I have been so lucky to have competed for the past 7 years with many of the greatest athletes (and people) in the world, "Pearce wrote.

"The past 7 years have been nothing short of amazing. I have met so many incredible people and have grown a lot as an athlete but, more importantly, as a person. Thanks a lot to everyone for all your support over the years. It means the world to me.