Here we are guys! TheSanctional most anticipated event of the season: the Rogue Invitational 2021! It will be 3 days (until 31/10) of many emotions at the Dell Diamond Stadium in Texas.
The stadium has 12.000 outdoor seats and this time in addition to the CrossFit® event heats, we will also have one Strongman competition!
Rogue Invitational 2021: how to attend
The whole event will be streamed live on the channels Rogue Fitness YouTube, starting from today at 18:00 (Italian time).
And see what awaits you:
CrossFit® competition
CrossFit® Legends Race
Strongman race
Rogue Record Breaker Events
A total of 40 athletes - 20 men and 20 women - have been invited to compete in the elite CrossFit® competition, including defending champion Patrick Vellner and Tia-Clair Toomey-Orr, four-time Fittest Woman on Earth®.
In Legends division, nine men and seven women are confirmed in the list, like the four-time Fittest Man on Earth®, Rich Froning.
The race of Strongman features 10 of the best athletes in the sport, including four times the strongest man in the world (WSM) Brian Shaw and current WSM champion Tom Stoltman.
Strongman at the Rogue Invitational
The Strongman inaugural race at the Rogue Invitational has the highest prize pools of any strongman competition in the history of the sport.
The first place winner will receive over $ 130.000 at the time of publishing this article (the prize increases with the sale of tickets) and all 10 athletes will walk away with a minimum of $ 4.000.
Rogue Invitational - Strongman Roster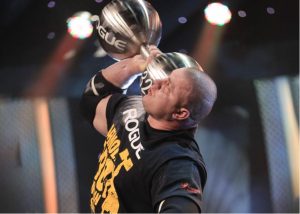 Brian shaw
Tom stoltman
Luke Stoltman
Martins Licis
Mateusz Kieliszkowski
Robert Kearney
JF Caron
Mikhail Shivlyakov
Jerry Pritchett
Oleksii Novikov
The 10 athletes on the list are i best athletes in the category. Four of the 10 men on the list have already won the WSM competition (Brian Shaw, Tom Stoltman, Oleksii Novikov, Martins Licis), two others made the WSM podium (Mateusz Kieliszkowski, JF Caron), and all but one made it to the WSM final - Rob Kearney is the only exception.
Also, the race Rogue Invitational Strongman presents the long-awaited return of Martins Licis to competitions after several years, just back from one of the latest injuries that have plagued him in recent times.
Rogue Invitational - Strongman Events
The competition will consist of five events spread over two days.
First day - Friday 29 October 2021
Rogue Elephant Bar Max Deadlift
Cyr Dumbbell Ladder
Second day - Saturday 30 October 2021
The Wheel of Pain
Yoke carry and Overhead Log Lift Medley
Stone Over Hitching Post
2021 Rogue Invitational CrossFit®
The competition Rogue Invitational CrossFit® 2021 will pay the highest prize of any sanctioned CrossFit® competition outside the CrossFit® Games.
The overall winner will receive over $ 250.000. As with the Strongman competition, all athletes will go home with money in their pockets, as all entrants are guaranteed $ 5833.
The award for the CrossFit® Legends competition has not been announced.
2021 Rogue Invitational Roster - Men's Division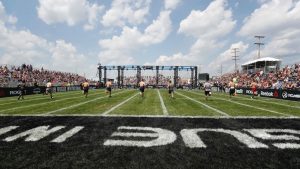 Justin Medeiros
Patrick Vellner
Björgvin Karl Guðmundsson
Saxon Panchik
Guilherme Malheiros
Alex Vigneault
Lazar Ukic
Travis Mayer
Jeffrey Adler
Cole Sager
Andrew Houdet
Henrik Haapalainen
Jayson Hopper
Will Moorad
Chandler Smith
Ben smith
Alexander Caron
Uldis Upenieks
Jason Smith
Samuel Kwant
2021 Rogue Invitational Roster - Women's Division
Tia Clair Toomey Orr
Laura Horvath
Annie Thorisdottir
Kristin Holte
Haley Adams
Gabriela Migala
Mallory O'Brien
Kristi Eramo O'Connell
Amanda Barnhart
Katrín Davisdottir
Danielle Brandon
Emma McQuaid
Thuridur Erla Helgadottir
Arielle Loewen
Emily Rolfe
Sam Briggs
Kari Pearce
Emma Cary
Carolyne Prevost
Jacqueline Dahlstrom
Individual Events 2021 Rogue Invitational
A total of seven events spread over three days make up the Rogue Invitational 2021.
Event One - GORUCK | Friday 29 October
For Time
Pull the wheelbarrow up to "Zeus" (Rig Rogue)
10 over under log on Zeus
5 rope climb
3 sandbag to top of hill (50/35 lb)
5 rope climb
10 over under log on Zeus
Push the wheelbarrow with a GORUCK sandbag (30/20 lb) up to the line
Event Two - Bella Complex | Friday 29 October
Max load:
1 clean
1 shoulder to overhead
1 front squat
1 shoulder to overhead
Event Three - Echo Burner | Saturday 30 October
for time
20 thrusters (115/75 lb)
40/32 echo bike
20 thrusters (115/75 lb)
Event four - Concept2 | Saturday 30 October
4 round for time:
21 cal SkiErg
21 Med Ball GHD sit-ups (14/10 lb)
Run Hill
Event Five - The Mule | Saturday 30 October
21-15-9 repetitions of:
Deadlift (315/225 lb)
Burpee Pull-up
Event Six - Chipper | Sunday 31 October
For time:
45/40 cal row
35 box step ups com sandbag (70/50 lb)
30 strict HSPU
15 ring muscle up
Jerry can carry (100/70)
15 ring muscle up
30 strict HSPU
35 box step ups com sandbag (70/50 lb)
45/40 cal row
Event seven - To be defined | Sunday 31 October
The final event of the Rogue Invitational 2021 will remain a mystery until the time of competition.
The Legends event schedule has been released, but the details of the three events have not. There will be one event on each day of the competition, from 29 to 31 October 2021.
Visualizza questo post on Instagram
2021 Rogue Invitational Legends - men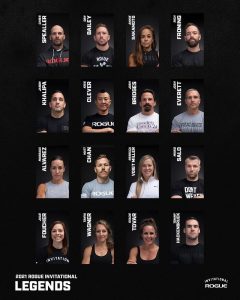 Chris Spealler
Dan Bailey
Jason khalipa
Josh Bridges
Josh Everett
Matt Chan
Mikko Salo
Rich Froning
Tommy Hackenbruck
Khalipa is the current champion of the Legends division, taking first place overall in 2019.
2021 Rogue Invitational Legends - women
Annie Sakamoto
Julie Foucher
Kristan Clever
Margaux Alvarez
Rebecca Voigt Miller
Tanya Wagner
Stacie Tovar
Sam Briggs won the Legends in 2019, but this year he will compete in the elite division.