Get ready for face the wrath of the Gods in the world of CrossFit® with the highly anticipated 7th edition of the Roma Throwdown!
This epic national race this year, will be held from 2 to 4 June at the Tor Tre Teste Sports Center in Rome, thanks to the incomparable commitment of the organizers Marco Persiani and Marina Novelli.
With the theme "The Wrath of the Gods" participants can expect breathtaking challenges, including swimming and obstacle course (as seen in their instagram profile!)
We managed to have a chat with the organizers and we will reveal some exclusive spoilers to make you want to come and watch this spectacular competition even more (and who knows, maybe even compete in the next edition!).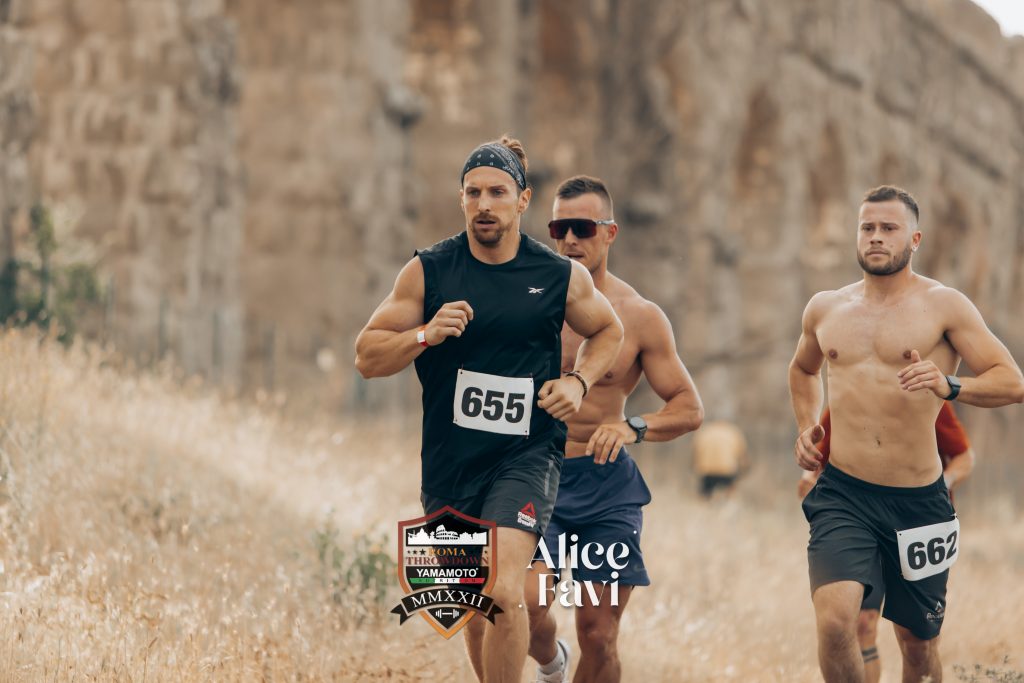 Wrath of the Gods in CrossFit®
The Wrath of the Gods theme brings a unique energy and tension to the Roma Throwdown 2023. Athletes will be faced with tests that will require courage, strength and determination, just like the heroes of ancient legends faced the challenges of the gods.
This evocative theme adds a captivating atmosphere to the entire competition, making each trial a unique and unforgettable experience, also thanks to the beauties of the Eternal City.
Roma Throwdown 2023 has some breathtaking surprises in store for attendees and spectators alike. One of spoiler that we can anticipate is the presence of a high intensity swimming test. Athletes will find themselves challenging the water, demonstrating not only their physical strength, but also the mental stamina necessary to face a completely different environment.
Also, the participants will have to collide in a obstacle course trial, which will test their agility, speed and dexterity in overcoming obstacles along the way.
But we will leave it to the organizers to tell something more:
Interview with Marco Persiani – Rome Throwdown Founder and Organizer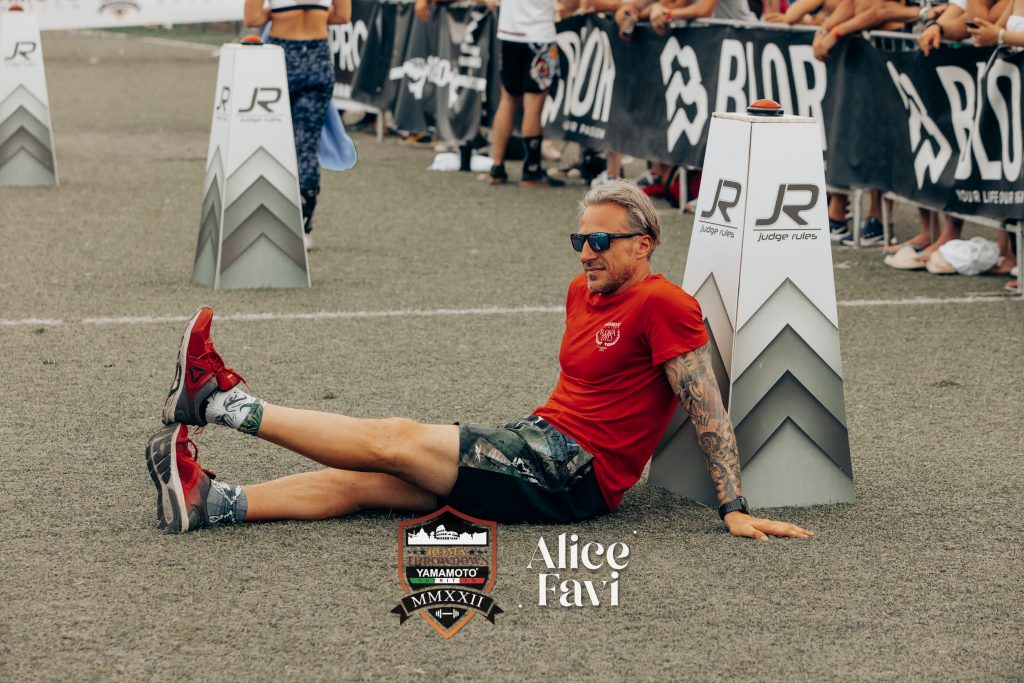 Marco: tell us who you are, what you do in life and how this passion called CrossFit® was born?
Hi guys, let me introduce myself: I'm Marco Persiani, a 45-year-old "ex-boyfriend" who met this sport 7 years ago and fell in love with it.
In life I am an engineer and I deal with safety. Since I don't like to combine work and sport, I recently invented a system - together with judgerules - to make CrossFit® competitions more exciting: the JR Buzz.
We are now a prototype version, but everything seems to work. So get ready!
You did the first edition of Roma Throwdown in 2017…how did the idea come about and how was the first edition?
I still remember the excitement, the first Roma Throwdown event was held at the Capannelle racetrack. It was me and my wife Roberta Mattozzi, and if it hadn't been for her great work as an event planner, I wouldn't have done much! But luckily I had the right idea and the right person by my side.
It all started from a reflection: Rome didn't have a reference functional fitness competition. From here we embarked on this adventure.
Luck has it that one is never alone in the craziest ideas and still today I have a family of friends who follow me in this adventure. I have friends who spend their holidays to give birth to this event!
Instead, tell us about last year's edition: you have entered a new one partner in crime super special: Marina Novelli! What prompted you to join?
Marina actually joined the Roma Throwdown project earlier than last year. But everything was hampered by the covid that forced us to an online edition of the event.
I have to say thanks his work fussy – did I say fussy? Is there any other adjective? Ah wait, obsessive to perfection – which has allowed us since last year to entertain all our athletes.
I have to thank Marina who then brought a fantastic group of judges to our team, led by Luca il "Morra" – as you know him – and his great second Alessandro Caccia.
Thanks to Marina, this team has become not only a working group, but a group of friends who also spend a lot of time joking on the Rome chats, making fun of each other. But then when we start talking about the new edition, everyone becomes serious and meticulous in their work. To have groups like this!
I steal two more lines to thank Eliana too, without her communication with the digital world would not be of equal measure!
Visualizza questo post on Instagram
This year, for the 7th edition there are other novelties… first of all you have changed the location. How come? And how is this new space?
You should know that we have also been contacted by the Municipality of Rome, which had proposed the Circus Maximus, and by Sport e Salute to be able to do it in the Foro Italico complex. But we are still a small reality trying to emerge.
We would love to hit these stages, but today we fly low and are dedicated to entertaining our athletes.
For this year we have chosen the Circolo del Tor Tre Teste, a club with the "capital c" endowed with an impressive structure and the possibility of giving us that something extra we were looking for.
In fact, in each edition we try to insert a new element into the live show. Last year, we had our athletes run in the aqueduct park.
I have seen the same athletes, especially foreigners, who, while facing the workout to set the best time, stop to admire the greatness of the architectural structures of Rome, neglecting the performance. In the face of so much beauty, how can you stay focused?
This year, when everyone thought we were running again, we surprised everyone with swimming, mbhe or….as if to say, you have to be ready for anything.
You have had many registrations for this edition, even surpassing last year (+6) and you also have many international athletes. What do you think works? What is the differentiating element?
Communication works, the seriousness we put into doing things but above all the identity that the race is consolidating over time.
This identity has as its focus the city of Rome which recalls in everyone's mind the wonder evoked by its history and its beauties. Few in the world like her, both in pros and cons.
But we "We are Romans" and we love Rome. And the combination of this sport linked to the city that gave birth to the gladiators, here we are. That's enough, I'll leave the word to Marina.
Interview with Marina Novelli – Roma Throwdown Technical Director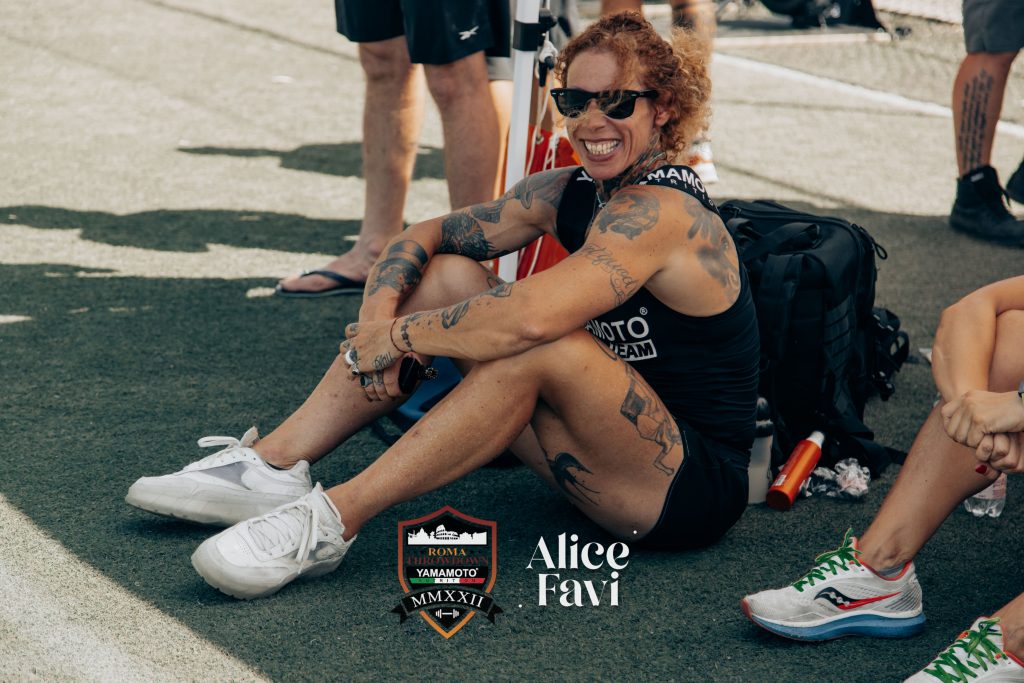 Marina: athlete, mother, organizer… how do you reconcile everything?
Well it's definitely not a simple thing but I've often made it fit all my lives into one.
Yes, in short, one of those things that we women are sometimes called to do 😉
Tell for those who do not know, what is your "task" as technical director?
I mainly deal with the workout part, at every stage of the year. Even during the off season we offer workouts on the social page rather than challenges through the Judge Rules platform.
We recently proposed the "Roma Throwdown Affiliate Program" initiative which aims to share initiatives and events with Roman realities operating in the field of functional fitness to promote their own activities and at the same time retain them and make them participate in the competition in Rome (and therefore also in their competition).
I think this project will occupy me a lot from here on out and I'm happy about it because I really care about it!
We know you are very perfectionist… What is it like to create wods? Is it a skill that comes easy to you?
Ahhaahah that's a nice way to say "buzz balls"?? Who did the spy?? Anyway yes, I confirm everything!
The truth is that in creating the workouts, whether they are qualifying rather than live, I constantly criticize myself and therefore, until the moment arrives in which I push the "send" button on the PC keyboard, I do nothing but write, correct, delete, redo etc etc
I'm a victim of myself, in short. On the other hand, I have notes in my archive that I could use to race for the next 20 years!
We have also seen that this edition has a specific theme: the wrath of the Gods. Tell us!
All of us Romans are particularly attached to our city. We are certainly a cheerful people but if there is one thing that always and in any case makes us all agree, it is Rome itself: Rome …..the 'nse discusses!
Therefore it was our duty to pay homage to the city and all the Romans by dedicating our workouts to them: last year we assigned names that recalled authoritative figures of the Roman Empire to each event.
This year to the gods of Ancient Rome. ideas for next year…???
We will launch a poll!! In the meantime, the first WOD on Friday for the team and some spots for the individuals have already been released… Do you perceive an obstacle course? Will we also see some other particular movement or gear?
In running wod athletes will also have to deal with dumbells. But I won't add anything else because the workout hasn't been published yet.
For the rest, I'll tell you the truth, I think Rome is a race whose main objective today is to consolidate and grow by exploiting the great potential that the city itself gives it. But precisely for this reason, at the same time it can penalize it in terms of expectation.
I am of the opinion that in order to grow a sporting event it is important to put athletes at the center of the scene, presenting contents of technical depth that highlight their skills rather than skills that penalize them!
Visualizza questo post on Instagram
Message for athletes and public from the organizers
We can't wait for June 2nd to share 3 days of sport together immersed in this wonderful city! Hello everybody!
Hello!
Bamboli and Marco