They tell you that you need to prepare for the holidays in advance. At the time of writing this article there are 43 days to Christmas.
Perfect here an article on sled training.
[wink]
First the basics: what is sled pushing or sled training
Imagine the lumberjacks (better if Nordic). How do you think they moved the logs from where they cut them to… well, where were they supposed to get them to? Here it is: it seems that sled training can somehow be traced back to that activity.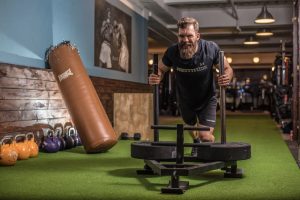 The "sled" usually consists of a support capable of sliding on the ground, and some way to stack discs on top of them. More or less comfortable handles allow you to push the contraption, thus making a movement that has many advantages. The Prowler - the most successful commercial sleigh model - follows this principle.
I said "more or less comfortable" because in different Strongman events you can see the athletes pushing really uncooperative objects.
Other sleds are more minimal, and require simpler technical solutions, such as a belt or bodice connected by a lanyard to the weights to drag. The load comes this way pulled or slipped while running, and not pushed.
The advantages of the sled
Everyone gains from using the sled. Not just the strong and powerlifters, but also those who need to increase their athletic performance.
involvement of different muscle groups (buttocks, hips, lumbar, thighscalves, core, triceps, shoulders)
development of functional strength
enhanced acceleration (important in racing)
conditioning
This last point is crucial, as you can train the sled with large loads - and therefore with a work more similar to that of strength - but also with small loads, but over longer distances.
Other "technical" advantages:
there is no eccentric phase (the negative), which is the one responsible for muscle damage and DOMS
difficulty of injury, again thanks to the lack of eccentric phase
It is funny
The fun of sled training
Primary fun factor: it is usually done outdoors. And this is a good variation for those who have to do it indoors.
The training with the sled is also sufficiently varied, because depending on what tools you have available, you can load it
and generally the different implementations allow you to do the movement by giving focus to different muscles.
How to train
Let's say the load determines the type of workout. A light load corresponds to a training focused on acceleration and speed. Heavier sleds make you work more on strength.
At this point, it is more your imagination that drives your workouts.
A good training model can be this, as long as you have it available a versatile sled (i.e. not one you can only push):
Load 40-45% of your body weight
Pull forward, 15 seconds of maximum effort, 2 minutes break
Pull back, 15 seconds of maximum effort, 2 minutes of rest
Right lateral pull, 15 seconds of maximum effort, 2 minutes break
Right lateral pull, 15 seconds of maximum effort, 2 minutes break
Lighten the sled by half the weight at least
60 second pull forward, maximum effort, 2 minute break
60 minutes pull back, maximum effort, 2 minutes break
If, on the other hand, you have a prowler or similar available:
charge 70-90% of your sled ceiling
Push the sled for 40 meters at a regular pace, rest two minutes
Come back, rest two minutes
Repeat for 4-6 sets at the end of a workout to finish off the workout.
We have activated a lot of discounts on Amazon: from 30 to 70% on all sports categories! It's all on our dedicated channel ????
SUBSCRIBE HERE TO THE TELEGRAM CHANNEL
photo: @ flickr.com