When planning a workout, there is a lot to organize to best help you reach your goals; as part of this planning, you definitely need to get used to having a snack ready at all times, even better if post workout protein!
To help you optimize your nutrition after workouts, here is a detailed guide.
What happens to the body during training?
When you train, muscles wear out glycogen, the body's preferred fuel source, especially during high intensity workouts.
This results in a partial depletion of glycogen in the muscles; some of the muscle proteins can also be broken down and damaged.
After training the body tries to rebuild glycogen stores and to repair and regrow muscle proteins; Eating the right nutrients right after exercise can help with these processes, especially if you are selecting quality carbohydrates, proteins and fats.
Post workout carbohydrates, fats and proteins
Each macronutrient is involved in the body's post-workout recovery process; that's why it's important to have the right mix.
Protein: help repair and build muscles; consume an adequate amount of post-workout protein provides the body with the amino acids it needs to repair and rebuild damaged muscle proteins; it is recommended to consume 0,14-0,23 grams of protein per kg of body weight
Carbohydrates: The body's glycogen stores are used as fuel during exercise, and consuming carbohydrates after training helps replenish them. The rate at which glycogen stores are used depends on the activity; for a correct synthesis of glycogen, it is good to consume 0,5-0,7 grams of carbohydrates per kg of body weight
Grassi: Many people think that eating fat after training slows digestion and inhibits the absorption of nutrients; a good compromise is to limit the amount of fat in post-workout snacks, but not completely eliminate it.
Timing of post workout snacks
In the past, experts recommended consume a post-workout snack 45 minutes after activity, since a 2 hour post-workout delay in carbohydrate consumption could lead to up to 50% lower glycogen synthesis rates.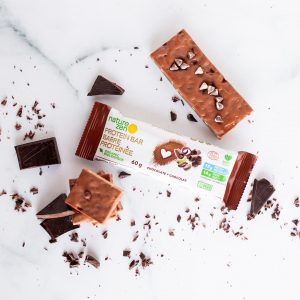 More recent research has found that the post workout time window for maximizing muscle response is wider than initially thought, up to several hours.
Also, if you have consumed a meal rich in whole carbohydrates one hour before exercise, the benefits of that meal are likely to last even after training.
Sources of ideal post-workout macronutrients
The main goal of the post workout snack is to provide the body with the right nutrients for adequate recovery and maximize the benefits of training.
The choice of quality foods, easily digestible, will promote a faster absorption of nutrients; let's see some of them:
post workout protein: protein powder, eggs, Greek yogurt, albumen, salmon, chicken, cottage cheese, tuna, protein bars (in moderation)
carbohydrates: sweet potatoes, Quinoa, rice, oats, fruit, wholemeal pasta
fats: avocado, dried fruit, peanut butter, seeds.
Always remember to also drink a lot of water during your workout! Being properly hydrated ensures that you have an optimal environment to maximize results for your body.
And do you take post-workout protein? Let us know below and remember to follow us on our telegram channel