I was rereading an old article on the thruster, written two years ago for CrossMag.
I must say that the introduction was quite straightforward:
The thruster is not un just exercise. AND exercise.
I would say that it is.
The thruster: a quick refresher
A little clean, a little front squat, and a little push press. A deadly combo, no doubt about it. It shouldn't be necessary to repeat everything stranded - the article is linked above - but:
rack position
squats below parallel
explosive climb
the weight ends above and slightly behind your head, elbows locked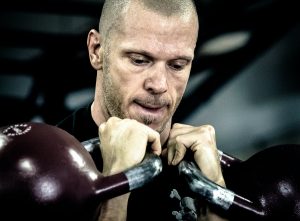 You made a rep. For variety, you can think of using, instead of the barbell, the kettlebells, or the handlebars.
However you do it, with the thruster you do a practically full body movement - difficult to find one that involves so many muscle groups: an intense push, and that you can load at will. In short, a dream!
How to thruster best
You never stop learning… nor of improve with technique. To give the best with the thruster, and make it efficient and profitable, you can think of:
work on mobility (general, which is always good, and of the hips, ankles and thoracic segment)
learn to make the most of a super contracted core, so as not to waste energy during the various phases of the movement
learn to focus on weight position on the delts. This advice is especially valid when you use the barbell, it means that if you feel that the bar is slipping away, you have to slow down the movement, and "tighten"
WOD with thruster
Now, let's get to the core. Where can you use the thruster? Let's see a bit of WOD, between the classic and the historical.
Open 17.5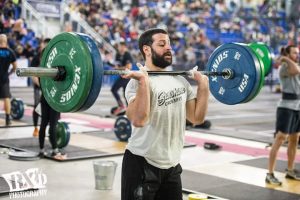 Directly from the 2017 games, the Open WOD. Simple simple:
10 rounds per time
9 thrusters (95/65 lb)
35 double under
Problems with the jump rope? There is the article that tells you how become a double under black belt.
The seven (also called "The seven of the CIA")
Backbreaking. Like all hero WODs, it is a torment.
7 rounds per time
7 handstand push ups
7 thrusters (135/95 lb)
7 knees to elbows
7 deadlifts (245/165)
7 burpees
7 kb swing
7 pull up
Tribute to September XNUMXth
Race, 2001 meters
11 di: box jump / thruster (125/85) / pull up chest-to-bar / power clean / handstand push up / kb swing / toes-to-bar / deadlifts (170/115) / push jerk (110/75 )
Race, 2001 meters
Fran
One of the original WODs.
21-15-9 for time
Thruster (95/65 lb)
Pull up
31 heroes
A very powerful Hero WOD, to do with a partner.
AMRAP, 31 minutes
Athlete 1:
8 thrusters (155/105 lb)
6 rope climb
11 box jump
Athlete 2:
Bag run (45/25 lb), 400 meters
We have activated a lot of discounts on Amazon: from 30 to 70% on all sports categories! Find everything on our dedicated channel ????