Le dips they are a very popular exercise in the fitness world. It is a movement that primarily involves the upper body, especially the triceps, pectorals, and shoulders.
This exercise can be performed in a number of ways, and some innovative approaches can lead to amazing benefits for your strength, flexibility, and overall health.
Here are four alternative ways to do them!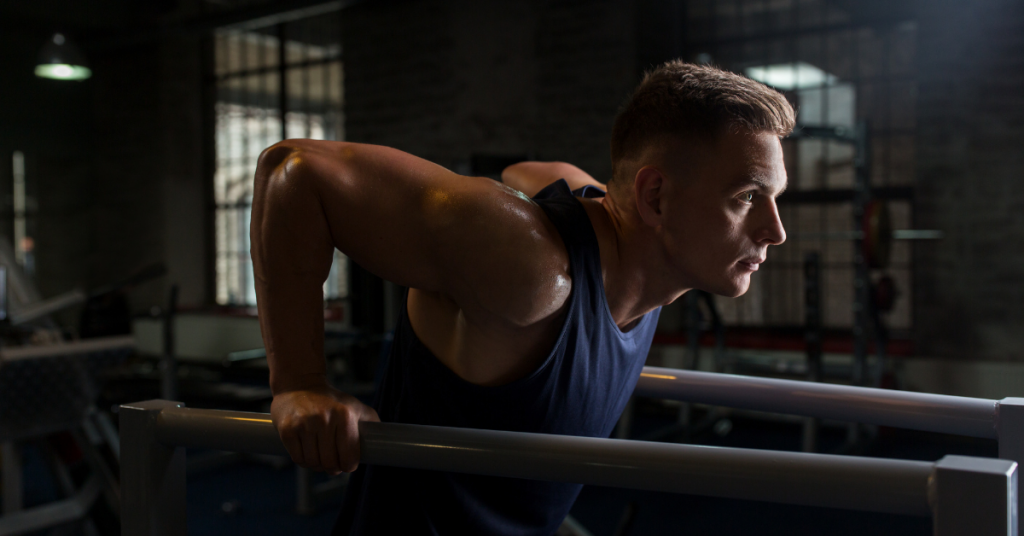 1) Band-assisted Dips
Using a resistance band more closely mimics the actual exercise than using a machine.
Why? There fascia unloads you more in the lower part, where you are weaker and less in the upper part, where you are stronger.
If you have back problems, the band assisted version also works very well; the band unloads more in the lower position, where the shoulders are hyper-extended and more vulnerable.
Choose one band thick enough to allow you to perform the first 5 reps. Continue until you can do 10, then choose a slightly lower resistance band that will allow you to go back to 5 reps.
Repeat this until you no longer need to use the sling.
2) Bench-assisted Dept
They are more difficult than you think. The organization is a bit complex, but once you try it you will become addicted; the assistance provided by a bench allows you to maintain stability and pressure at a constant angle.
As you approach technical failure, use your feet to push off the bench and help you. It's sort of a drop-set. The angle of pressure emphasizes the lower pecs more than the standard, more upright version.
3) Meadows Dips
John Meadows was a master at tweaking old-school favorites into highly useful variations of classic exercises.
When working with elite professionals, even the smallest details matter. The Meadows Dip is a good option if you are looking to build your lower pecs – the rib region.
Finish each rep overhead by thinking about pushing your shoulder blades down and around your ribcage and pushing your upper arms toward where your lower pecs meet in your center.
Extend your legs in front of you to maintain an optimal pressure angle; these exercises work best in a higher hypertrophy range (think 12 or more reps) with a focus on contraction and tension.
If you want to load them, try using a weighted vest or chain on your shoulders. Avoid the dip belt.

4) Accentuated eccentric Dept
Classic dips can be load yourself in various ways, such as by hanging weights on your shoulders or around your hips.
Once significant strength is achieved within the desired rep range, the weighted versions can be used.
About i50% of body weight with an immersion belt is a good start. Then try using accentuated eccentrics to make progress.
During the stage eccentric/negative of a lift you are about 40% stronger. Emphasizing the negative phase helps to exploit this capacity for extra strength, creates a lot of mechanical tension and tissue disruption (important factors that trigger muscle growth) and helps develop greater inter- and intra-muscular coordination for increased strength, musculature and injury protection.
And you, what kind of variation of dips do you prefer? Let us know in the comments and remember to follow us on our telegram channel