When it comes to shoulder training, the Dumbbell front raises are one of the most effective and versatile exercises available. This exercise is mainly aimed at deltoids anterior, but also involves the lateral deltoids and trapezius upper, helping to sculpt and strengthen the entire shoulder area.
In this article, we'll explore the benefits of front raises with dumbbells, the correct technique to perform them and how to integrate them in your training program. Read on!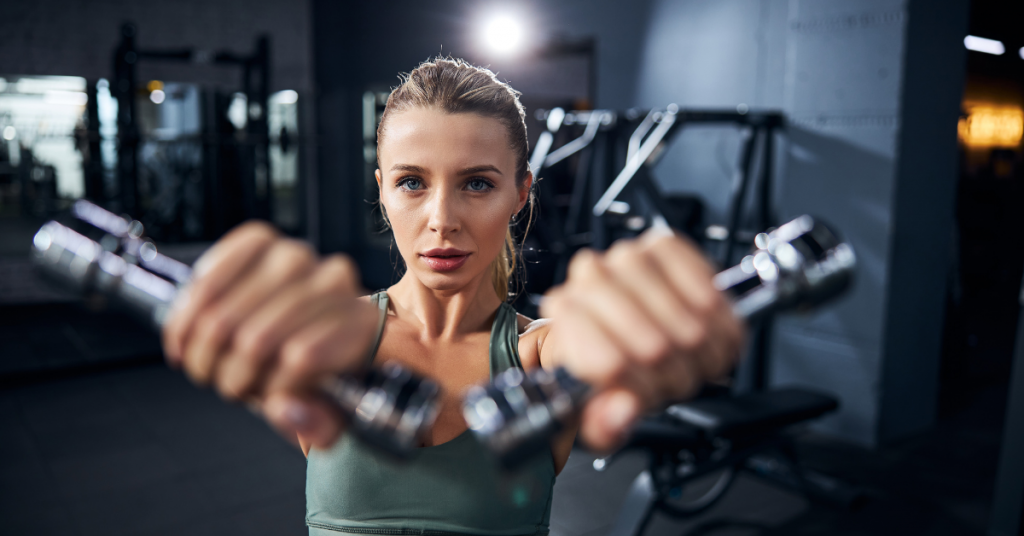 Benefits of dumbbell front raises
Development of the anterior deltoids: Dumbbell front raises are one of the most effective exercises for developing the front deltoids, the front part of the shoulders. A well-developed deltoid gives a wider and more attractive shape to the entire upper body.
Involvement of the lateral deltoids: Although the main emphasis is on the front delts, dumbbell front raises also engage the lateral delts. This helps create fuller shoulders and improve the overall appearance.
Increased shoulder strength: This exercise greatly contributes to increasing shoulder strength, which can improve your ability in many other exercises and daily activities.
Shoulder stability: Dumbbell front raises require significant shoulder stability effort, helping to prevent injuries and improve posture.
The correct technique
Performing dumbbell front raises correctly is essential to maximizing the benefits and reducing the risk of injury. Here's how to do it:
Initial position: Start standing, with feet shoulder-width apart. He holds a dumbbell in each hand, with palms facing his body. Maintain a slight bend in your knees.
raised: Slowly raise the dumbbells in front of you, keeping your elbows slightly bent. Bring the dumbbells to shoulder height or slightly below, without going above eye line.
Control: maintain control during the descent phase, avoiding dropping the dumbbells. Return to the starting position in a slow and controlled manner.
Breathing: Breathe evenly throughout the exercise, exhaling as you lift the dumbbells and inhaling as you lower them.
Number of repetitions: Start with a moderate weight and a number of repetitions between 8 and 12 for 3-4 sets. Increase the weight gradually as you feel stronger.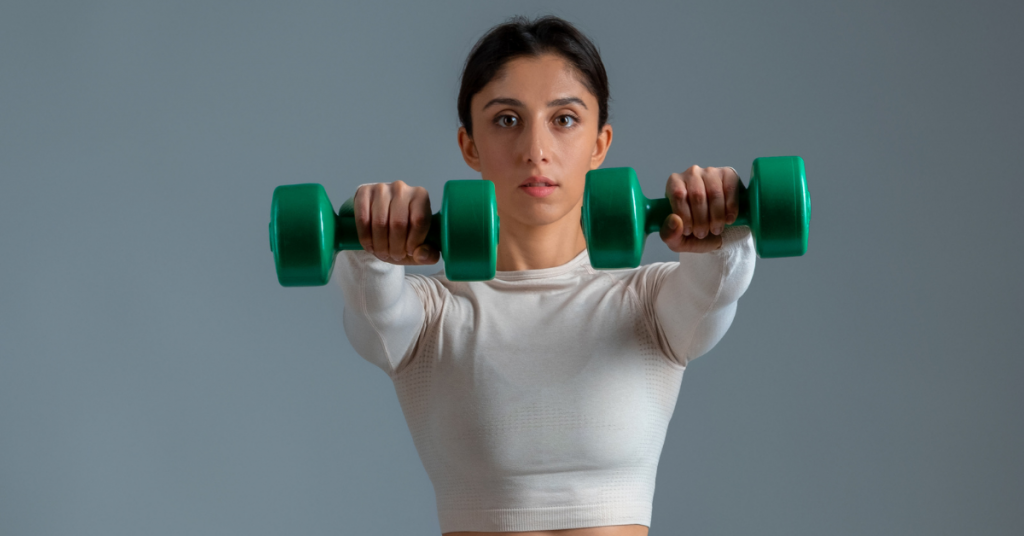 Integrate front raises into your program
Dumbbell front raises can be integrated into your training program in several ways:
Shoulder day: Include dumbbell front raises as part of your shoulder training routine. Combine this exercise with others, such as military press and lateral raises, for a complete shoulder workout.
Full-body training: If you prefer a full-body workout, dumbbell front raises can be a great exercise to include in your routine.
Muscle Split: If you follow a muscle split training program, you can dedicate a specific day to shoulders and include the raises as one of the main exercises.
In conclusion, Front raises are a fundamental exercise for developing and strengthening your shoulders. By using the correct technique and integrating this exercise into your training program, you will be able to achieve strong, sculpted and enviable shoulders.
Always remember to consult a fitness professional before starting a new training program, to ensure it is suitable for your needs and physical condition.
And you, when do you perform front raises with dumbbells? Let us know in the comments and remember to follow us on our telegram channel
SUBSCRIBE HERE TO THE TELEGRAM CHANNEL