The 2023 Madrid Championship was a epic event that shook the world of CrossFit® from 7 to 10 September at the majestic Caja Mágica in Madrid.
This competition has seen some of the best athletes from all over the world challenge yourself in a series of extreme tests to demonstrate your strength, resistance and agility.
Let's discover together all the key moments and extraordinary performances of the athletes on the floor, also discovering who our competing athletes were and how they concluded this unforgettable edition.
Elite Men
For the men's podium, after the first four events, Travis Mayer he was placed very well in the rankings, behind Lazar Djukić (1st place) and his brother Luka Djukić (2nd place). After a win in event 5, Mayer continued to perform well, but ultimately he finished the race in 3rd place overall.
For the top step, however, after a first and a third place in tests 1 and 2, Jonne Koski was at the top of the ranking, but after a 17th and 13th place in tests 3 and 4 he dropped to sixth place. In test 5 he had an excellent performance, coming 2nd overall, boosting his morale. This victory allowed him to finish the race in second place.
Lazar Djukic instead it managed to get rid of the competition, with consistent performances, never leaving the top 10.
Elite men category winners Madrid Championship 2023
Lazar Djukić (SERBIA) – 30.000 euros
Jonne Koski (FINLAND) – 15.000 euros
Travis Mayer (USA) – 6.000 euros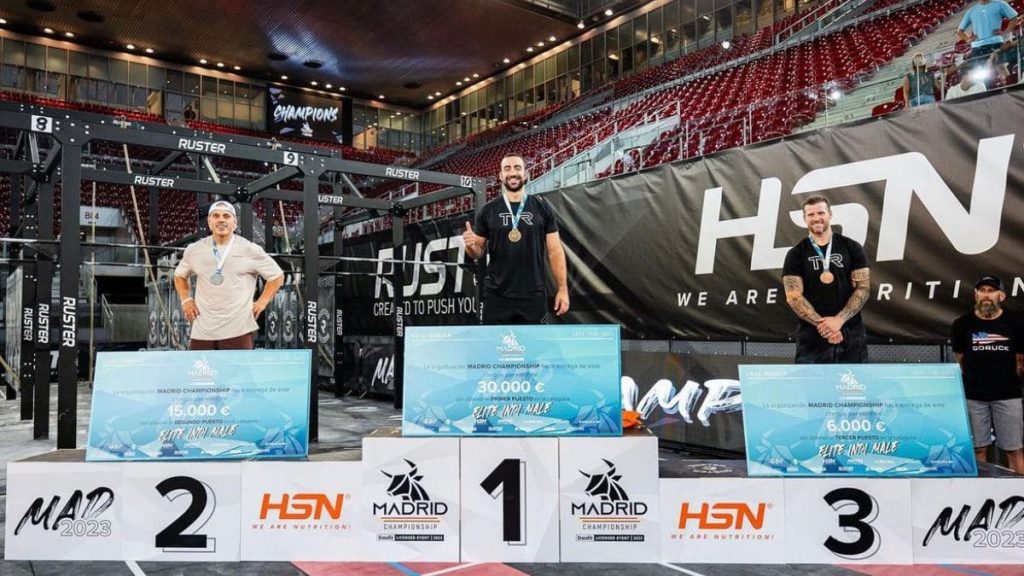 Elite Women
Karin Frey achieved a great performance in this competition, winning several events (for a total of 4!) and conquered the top step of the podium.
As well as Travis Mayer, too Anikha Greer has fluctuated a bit in the rankings, with two second place finishes amidst a 29th place finish in event 4 (the 5km race). However, she managed to take second place overall.
Elite women category winners Madrid Championship 2023
Karin Frey (SLOVAKIA) – 30.000 euros
Anikha Greer (CAN) – 15.000 euros
Emelie Lundberg (SWEDEN) – 6.000 euros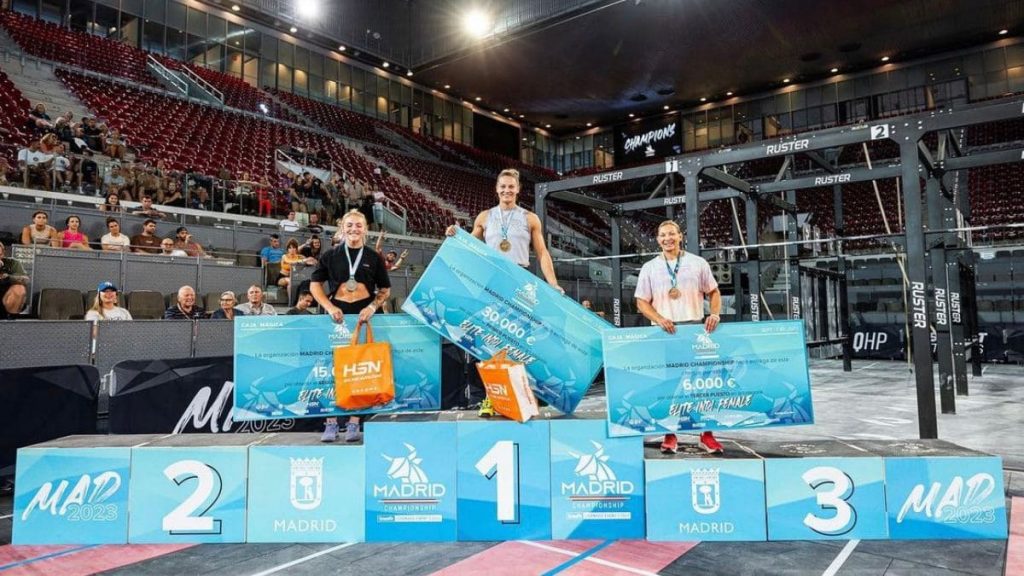 Elite team
The team Los Niños (Noah Ohlsen, Chandler Smith, Lena Richter and Sydney Michalyshen) remained at the top of the charts all weekend, arriving at the last day with an undisputed advantage!
What to say? Chapeau!
Winners of the Madrid Championship 2023 elite team category
Los Niños (USA) – 20.000 euros
Training Culture (ESP) – 12.000 euros
Training Culture Bananas (ESP) – 6.000 euros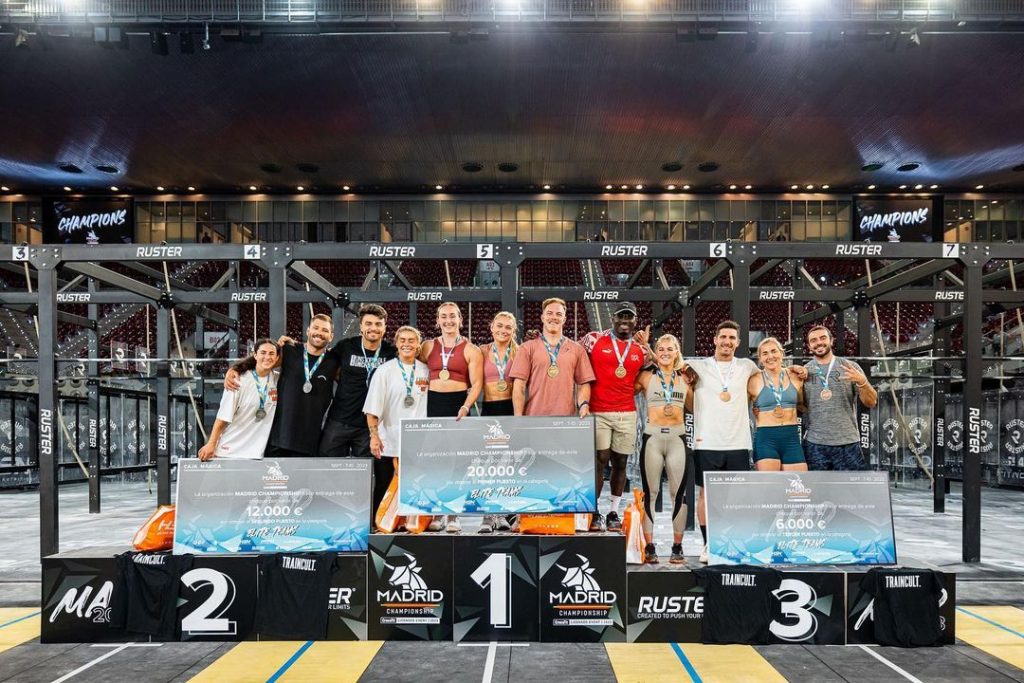 Italian athletes competing
During the Madrid Championship 2023, Italian athletes demonstrated their worth in the arena, earning everyone's respect with their determination and skill. From experienced athletes to emerging promises, Italy presented an exceptional team that gave its all in every test.
Iurii Marincenco, elite athlete managed to achieve a 9th place in test 3 (lifting 150kg) and a 12th place in test 6, closing the race 18th overall.
For the female category, Valentina Magalotti he did an excellent performance in test 1 finishing 12th overall and an excellent job in test 5 finishing 6th. These results allowed her to closing the weekend in 22nd place overall.
But we do had master athletes on the podium: a special compliment goes to Cristina F. Andries who won first place in the master men 40 category and to Michele Gardini who came 2nd in the master men 40 category.
Visualizza questo post on Instagram
Other results
Masters 45 women
Perla Mitri: 9th overall
Francesca Ratto: 14th overall
Masters 40 women
Cristina F. Andries: 1st overall
Rita Maggio: 7th overall
Cinzia Marini: 14th overall
Masters 40 men
Michele Gardini: 2nd overall
Michele Gabba: 10th overall
Alessandro Verrucci: 19th overall
Masters 45 men
Antoniokamaji De Sanctis: 14th overall
Nadir Gandolfi: 18th overall
Teen 15-17 boys
Giacomo Valla: 4th overall
Christian Cataldo: 5th overall
Lorenzo Ursini: 11th overall
RX TEAM category
Team Vairus: 6th overall
(Moreno Matani, Martina Astrego, Andrea Vairo and Gian Lorenzo Lucchesi)
Team Three shadows and one stone: 30th overall
(Stefano D'Angelo, Vanessa Verdecchia, Niccolò Girini, Daniele Ferrazzani)
Team Master Crazy Horses: 32th overall
(Daniela Franco, Luigi Zazzera, Alessio Scarpiello, Saverio Cardone)
Southern Carpentry Team: 41th overall
(Mirco Facchini, Sergio Scarcella, Nicolò Maghini, Antria Louka)
CrossFit® Slate: 68th overall
(Jimmy Antonelli, Chiara Giorgi, Giuseppe di Turro, Matteo Ferrazzo)
Advanced team category
M&M'S team: 18th overall
(Sara Corradin, Gabriele Martinelli, Raffaele Iorio, Manuel Berselli)
Crossrule: 49th overall
(Filippo Cazzaro, Diego Marinelli, Marco Radicchi, Sara Pauselli)
CrossFit® Slate: 62th overall
(Pierfrancesco Cotena, Vito del Vescovo, Davide de Giglio, Samantha Antonicelli)
Intermediate team
Xbox: 30th overall
(Francesco Fioravanti, Giacomo Mustillo, Giulia Cristofori, Edoardo Mariotti)
Gymbros: 67th overall
(Costanza Amadio, Francesco Taurino, Edoardo Abate, Michele De Berti)
Bomby Team: 86th overall
(Giuseppe Iannelli, Francesco Spaziani, Raffaella Stracqualursi, Cristian Capogna)