La scoliosis is characterized by an S- or C-shaped curve in the spine; it is usually diagnosed in childhood but can also appear in adulthood.
Adult scoliosis can occur for a variety of reasons: genetics, irregular pelvic position, previous spine or joint surgery, knee or foot sprains, and even head injuries.
Scoliosis it can be corrected through targeted exercises, braces and / or surgery. If you suspect you have this condition, contact your doctor immediately who will be able to indicate the tests to follow and give you an appropriate treatment plan.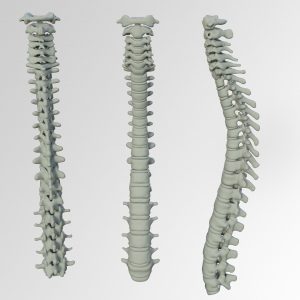 Types of scoliosis
Scoliosis can occur in several forms:
lieve: usually does not require significant medical attention and is not as noticeable to the eye; it is the most responsive to targeted and postural exercises;
moderate: it can improve with exercises, but it is often recommended to wear a brace;
severe: In most cases, severe scoliosis is treated with surgery.
Exercises for scoliosis
People with scoliosis have difficulty moving in one direction due to curvature of the spine.
There are some targeted exercises to help improve movement for mild scoliosis, but before trying these workouts, always contact your doctor and your athletic trainer!
Get on and off the step by lifting your arm: before starting this exercise, try to understand which leg seems longer to you from the lying position; with this leg you step on the step; lower the other leg as you bend the knee; during the descent, raise your arm (on the same side as the lowered leg) as high as possible. Do 3 sets of 10 reps on this side only.
Position of the dog: starts the movement in plank position prone with outstretched arms;
push your hips back and as high as possible; hold the position for 10 seconds and then come down by lowering your hips towards the floor; do 3 sets of 10 reps. Nello yoga this is the position of the dog.
Front lunge with arm lift: take a long step forward (lunge position) with the longest leg; keep your torso erect; start shifting your weight back and forth, causing the
front knee bend; as you shift your weight forward, raise the arm opposite the forward leg as high as possible. Do 3 sets of 10 on one side only.
Schroth exercises: Schroth exercises are asymmetrical postural exercises specific to scoliosis, which aim to improve posture and pain and teach patients to consciously maintain correct posture during activities of daily living. These exercises target endurance and strength training of the abdominal, back and leg muscles.
In conclusion
Exercise is usually recommended in cases of mild and moderate scoliosis.
By doing the exercises that your trainer recommends and maintaining a healthy and active lifestyle, you may be able to slow down the curvature of the spine, also reducing pain.
Always remember to get the opinion of your doctor or orthopedist or physiotherapist before starting a scoliosis treatment regimen or sporting activity.
And you, did you know these exercises to help in case of mild scoliosis? Let us know in the comments and remember to follow us on our telegram channel