Rich Froning, icon of the CrossFit® world, is still very active in the world of sport, which requires a large amount of food for the body to function properly. Froning is one of the first legends of CrossFit®, having played an integral role in bringing the sport to prominence.
During his pAs an individual athlete, Rich was unbeatable, having won four CrossFit® Games titles before moving on to the division of the Teams. Here, he earned an additional six titles at the CrossFit® Games.
Rich he continues to train hard and recently revealed his typical day of nutrition, which allows him to maintain high energy levels.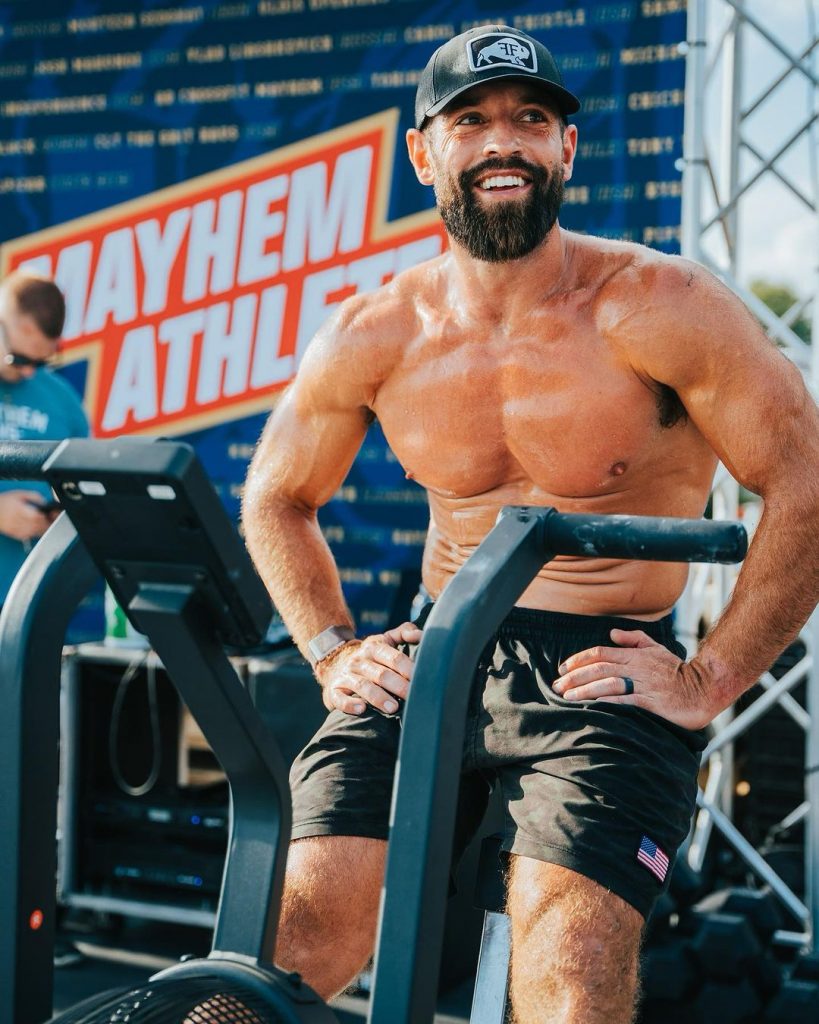 Even though he hasn't revealed a defined goal for his future in CrossFit®, Rich Froning has previously hinted at the possibility of competing in the Masters division of the CrossFit® Games.
It's unclear whether this remains his goal, but judging by the hard training shown in his typical day of nutrition YouTube video, it's clear he's ready to get back on the big stage!
During the time the video was shot, Rich Froning was preparing for the Leadville 100 Mountain Bike Race. A few days later he participated in this race, challenging other athletes in a 100-mile race in scorching heat, with massive inclines and difficult trails. Basically, he completed one of the most challenging mountain bike races ever.
Rich Froning's Typical Eating Day
Breakfast
Rich Froning he starts his day very early, with his first meal at 7:00 in the morning. Even though it's not a large meal, Rich makes sure to provide his body with enough proteins, carbohydrates and fats to start the day well.
So, just have a protein shake and a bagel with peanut butter.
Protein: 60 grams
Carbohydrates: 77 grams
Grassi: 25 grams
Snack
The day Rich Froning shot the video of his typical eating day was the hottest day of the year so far. However, that didn't stop him from putting in an incredible effort on the bike, covering 68 miles.
To do that, Rich had to carrying numerous supplies, therefore, frequently drank liquids and ate portions of his peanut butter and jelly sandwich.
Sandwich with Peanut Butter and Jam
Sodium Packet (2.000mg Sodium)
Mini Cherry Coke (4 cans)
Gel Packs (4)
Drink Rich in Carbohydrates (4)
Gatorlyte
Protein: 19 grams
Carbohydrates: 435 grams
Fat: 21 grams
Visualizza questo post on Instagram
Lunch
Even if he didn't havenot even hungry" for lunch, Rich Froning had to anyway replenish all the calories burned during your bike ride. So, he sat down to eat grilled chicken, french fries and nuggets.
After the meal, Rich Froning talked about the principles of aerobic training and revealed that there is no real benefit to training for more than four hours.
After having settled the lunch, Rich Froning went to the gym at 15pm and went through an intense training session.
This included strict pull-ups, bench press, lat pull-downs and more…
Protein: 61 grams
Carbohydrates: 127 grams
Grassi: 43 grams
Price
After some time, Rich Froning sat down to dinner. Since he had eaten a lot of carbohydrates during the day, the goal for dinner was to focus on protein intake.
Then, he prepared meat with vegetables and other side dishes, ate cereal and drank a protein shake.
Protein: 91 grams
Carbohydrates: 113 grams
Grassi: 46 grams
Total nutritional values ​​for the day
Protein: 231 grams
Carbohydrates: 752 grams
Grassi: 135 grams
Calories: 5.100 (Approximately)
La Rich Froning's typical day of nutrition is designed to support his intense training and physical activities.
Let's always remember that dietary needs vary from person to person, therefore it is important to adapt your diet according to your personal needs and goals and contact a nutritionist who can best evaluate your personal history and objectives.