Well-being and health are fortunately becoming a priority for many people; the air fryer has emerged in recent years as an innovative and healthy alternative to traditional deep-frying in hot oil.
This kitchen appliance promises to provide the same delicious crispy crust as fried foods without dipping them in oil, but, as with any technology, there are advantages and disadvantages to consider carefully, let's find out together!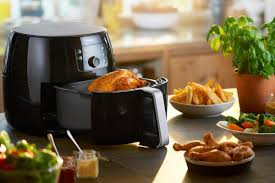 What is an air fryer and how does it work?
The air fryer, also known as a hot air fryer or forced air fryer, is a kitchen appliance designed to cook food with significantly less oil than traditional fryers.
This technology was developed to offer a'healthier alternative to traditional frying, while maintaining the crunchiness and flavor of foods. The cooking process with an air fryer takes place in several steps:
Heating: Initially, the air inside the device is heated to high temperatures, often up to 200-220°C
Air circulation: a powerful fan inside the air fryer circulates hot air at high speed inside the cooking chamber
cooking: the foods are placed inside the cooking chamber on a rack or in a basket. The circulating hot air cooks the food, evaporating surface moisture and creating a crispy crust
Cooling: Once cooking is complete, the food is removed from the air fryer.
Benefits
Let's see the advantages of using the air fryer:
Less use of oil: the main advantage is the reduced use or even the elimination of frying oil. This means that the foods are less grassi and calories, contributing to a more balanced diet
Healthy cooking: with less oil involved, foods are less steeped in saturated fat. This reduces the risk of cardiovascular disease and helps maintain lower cholesterol levels.
Less odor and smoke: the air fryer produces less smoke and odor than traditional fryers. This contributes to a cleaner kitchen and a more pleasant environment.
Ease of cleaning: Most air fryers are designed to be easily disassembled, making cleaning a less challenging task than cleaning a traditional fryer with oil.
Culinary versatility: In addition to the classic fries, air fryers can be used to cook a wide range of foods, including chicken, fish, vegetables and even desserts.
disadvantages
Let's also see the disadvantages of the air fryer:
Initial cost: Good quality air fryers can be expensive compared to traditional air fryers. However, this cost could be offset by future savings in oil.

Taste quality: many fried food aficionados find that the flavor obtained with an air fryer is not identical to that obtained with a traditional fryer.
Cooking time: in some cases, the air fryer may take longer to cook foods than a traditional fryer.
Dimensions and space: some air fryers can be bulky and take up countertop space. This could be a problem for those with limited kitchen space.
Consistency of foods: while the air fryer promises crispiness, it may not always achieve the same texture as deep-fried foods. This depends on the type of food and the cooking technique used.
The air fryer is aintriguing option for those looking for a healthier way to enjoy fried foods; offers a number of benefits, including reduced fat and calorie intake, less smoky cooking, and easier cleanup.
However, there are also drawbacks to consider, such as initial cost, quality of taste and cooking time. Your decision to use an air fryer will depend on your personal preferences, culinary needs and health goals of each.
And you, have you ever used an air fryer? Let us know in the comments and remember to follow us on our telegram channel

SUBSCRIBE HERE TO THE TELEGRAM CHANNEL