Il Calf is a very important muscle for the locomotion and loading activities; who practices bodybuilding and attends the gyms he knows that genetic predisposition is very important for the development of this muscle, but with a good training program and a lot of consistency everyone can get good results.
ANATOMY
The calves belong to the posterior compartment of the leg; they are made up of 3 muscles: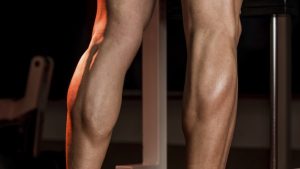 Gastrocnemius: it is the most superficial muscle and helps to extend the foot, make it rotate internally and also participates in the flexion of the leg;
Soleus: deep enough muscle that develops maximum power when extending the foot;
Posterior Tibialis: very deep muscle that acts during extension, adduction and rotation of the foot.
CALF TRAINING
The calf is not a difficult muscle to train as the movement to perform is very simple; the main problem is the lack of consistency over time in training this muscle district.
Four important tips for developing these muscles:
constancy: don't stop training your calves if you don't see results after 1 month; continue with your series and insert an extra weekly reminder. The results will be slower than with other muscles, that's true, but they will come.
Optimal technique: good mind-muscle connection and good movement control; don't just rest your toes on your cradle before starting the foot lift, otherwise calf work is greatly reduced.
Work the calf throughout the full range of motion of the exercise: when training this muscle district, do not make explosive movements when you push your foot up; better to make slow and controlled movements;
Pause for 2 seconds both in the phase of maximum contraction and in the stretch phase.
CALF EXERCISES
Always try to do repetitions between 10 and 30 (no lower) for 2 sessions of 5 series each (Ex: Monday: 5 sets of 20; Wednesday: 5 sets of 30).
Vediamo and best exercises for calf training:

Calf press 45 degrees: sitting on the press, place your toes on the lower part of the platform and straighten your legs by pushing the platform upwards; this movement allows for complete plantar flexion. At the highest point there is the maximum contraction, which must be maintained for a few seconds.
Calf horizontal press: involves more the external part of the muscle; sitting on the horizontal press, place your toes on the lower part of the platform and push your toes towards your body, keeping your knees still.
Calf standing on step: this exercise is bodyweight; stand on top of a step, step or riser, flex your legs and stand on tiptoe bringing your calves to full extension.
Calf sitting at the machine in a flexed position: by changing the position of the knee, the stimuli on the gastrocnemius can be varied, which here is particularly involved to the detriment of the soleus; the movement is the same only that the starting position is sitting at the machine with the knees flexed.
How do you train your calves? What's your favorite exercise? Let us know in the comments and remember to follow us also on our Telegram channel

SUBSCRIBE HERE TO THE TELEGRAM CHANNEL