For CrossFit® fans, Camille Leblanc-Bazinet needs no introduction, but it definitely deserves one.
The athlete has participated in eight CrossFit® Games (including a podium in 2014) and recently turned his gaze to a very different physical activity: bodybuilding on a professional level.
In early October, Camille has competed in the Bikini division of the NPC Daytona Beach Classic 2021. He took a second place in Class A, earning a place at the NPC National Championships, which will be held from December 17-18.
Furthermore, Leblanc-Bazinet is stepped onto a bodybuilding stage almost exactly one year after gave birth to her first daughter, Zoe.
While the athletes of the G
ames are instantly recognizable by their physiques, Camille Leblanc-Bazinet is something of a pioneer in terms of transitioning from high-end CrossFit® to the aesthetically demanding rigors of bodybuilding.
Visualizza questo post on Instagram
2021 Daytona Pro - NPC Bikini Results
Here are the full results of the Open Bikini division, excerpted from NPC News Online.
Note: the classes are divided by height.
Class A: up to 5'1 ″ inclusive
Class B: over 5'1 ″ and up to 5'2 ″ inclusive
Class C: over 5'2 ″ and up to 5'3 ″ inclusive
Class D: over 5'3 ″ and up to 5'4 ″ inclusive
Class A
Julie Ann Bacon
Camille Leblanc-Bazinet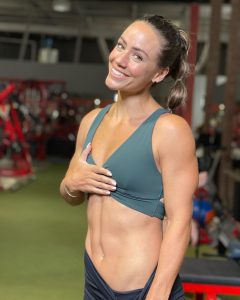 Maria Alejandra Herrera
Ryan Martin
Jenya Kapul
Calinda Pagan
class B
Angelina Lovalente
Heather Rickard
Elise Sabatino
Allyssa Adkisson
Ruth Vizcaino
Alexis Daz
Sabrina Smith
Class C
Marissa Rullo *
Vanessa Kollcaku
Kerri Hill
Jessica Foster
Kiana Dupre
Julianna Monroe
Lisa Jeanmaire
Jessica Sealy
Class D
Savannah Sams
Hayley Conley
Gracie Swingle
Autumn butler
Victoria Ojeda
* Marissa Rullo won the overall standings, which means she was the best Bikini contestant of all classes.
How the Bikini Division is judged
One of Camille Leblanc-Bazinet's many tasks since moving from CrossFit® performance has been to adapt as an athlete to one scompletely new erie of competitive criteria.
Instead of being measured by objective parameters based on metrics - how fast it can run, how far it can push a sled, how heavy it can grab a barbell - Camille instead had to turn her attention to getting top marks on a more subjective scorecard.
As a bikini athlete in particular, Camille must be in solid condition. Unlike CrossFit®, the "conditioning"In the context of bodybuilding refers to the athlete's level of body fat, muscle definition and the visual appearance of his" soft "or" hard "physique.
Women in the bikini division are also rated on the elegance of their stage march, as well as their complexion and overall stage presence.
The power of performance
Luckily for Fittest Woman on Earth 2014, getting to the bodybuilding stage with enough muscle was a breeze.
This was likely due in large part to his years of endurance training throughout his CrossFit® career.
Visualizza questo post on Instagram
The bikini contestants come also judge by the development of the legs, another area in which Camille Leblanc-Bazinet plays at home.
In CrossFit®, most workouts tend to incorporate full-body movements, which no doubt enhanced the appearance of his quads and calves without having to work out a specific bodybuilding program.
What the future holds for Camille Leblanc-Bazinet
While CrossFit® and bodybuilding training are generally diametrically opposed, the benefits gathered from years of high-intensity training in the gym and on the competition field seem to have paid off for Camille as she turns to a sport that judges muscularity.
Although she has probably retired from CrossFit®, she seems excited to continue her new passion in bodybuilding.
In an Instagram post shortly after her appearance on stage, Leblanc-Bazinet made her intentions clear by stating that she is "officially a bodybuilder now".
And you, what do you think of this change?