The world of fitness is experiencing a revolution with the arrival of the Hyrox races, a sports mode that is rapidly gaining popularity around the world. This discipline combines the strength, endurance and agility in a single event, putting athletes to the test in a complete and engaging way.
Since, finally, Hyrox made its debut in Italy, with the very first at Rimini Wellness, we have decided to list the calendar with all the European dates for this season!
The Origin of Hyrox
The inspiration for Hyrox is emerged in Germany in 2017, when Christian Toetzke and Benjamin Seitter, the founders, conceived the idea of ​​creating a challenge that would test the skills of athletes from different disciplines.
Looking for a way to combine the world of running and functional training, the two visionaries created Hyrox: an indoor endurance challenge that cleverly blends running and functional activities.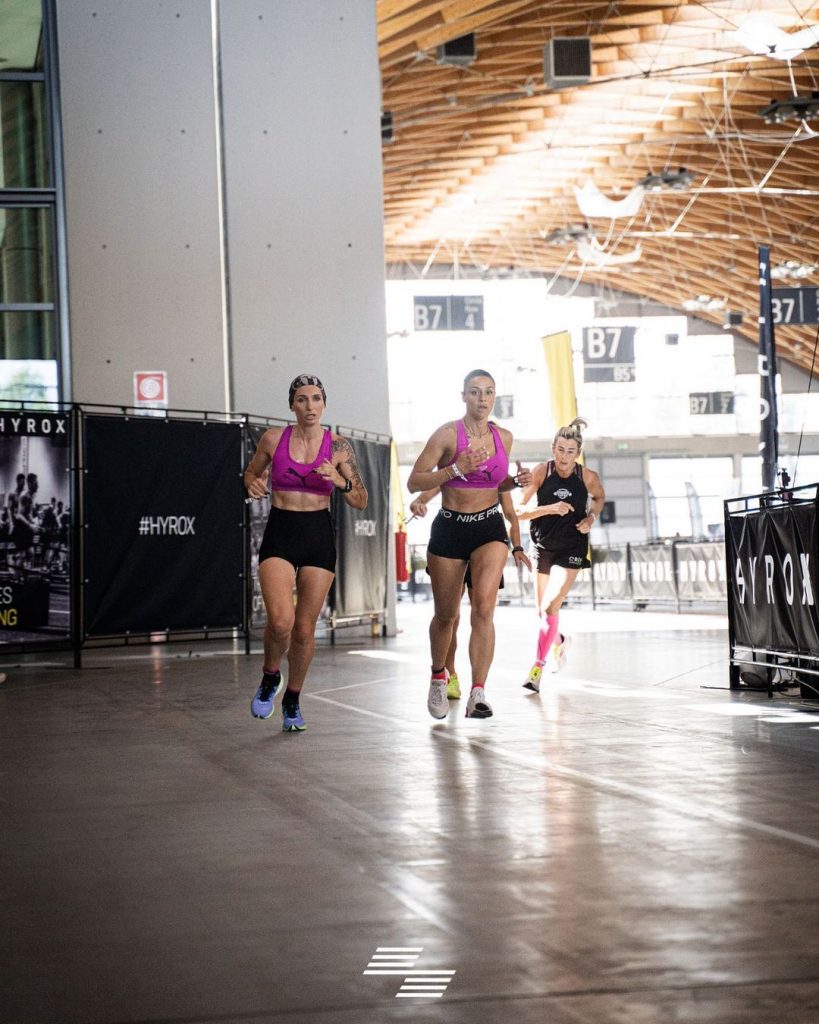 How does it work?
Hyrox it is a unique competition that requires athletes to go through 8 different training stations, each preceded by a 1 km run. It is essential to note that only those who successfully complete one station can advance to the next.
Each participant is equipped with a timing chip, which precisely records their time. This temporal data is subsequently inserted into the world ranking, offering athletes the opportunity to monitor their progress and try to improve their performances in view of upcoming competitions.
Here are the 8 functional exercises that athletes face:
1000 meters of ski erg
50 meters of sled push (from 102 to 202 kg)
50 meters of sled pull (from 78 to 153 kg)
80 meter burpee broad jumps
1000 meters per rowing machine
200 meter kettlebell farmers carry (from 16 to 32 kg)
100 meters of sandbag lunges (10 to 30 kg)
Between 75 and 100 repetitions of wall ball (from 4 to 9 kg)
Visualizza questo post on Instagram
2023 Hyrox Race Calendar in Europe
If you're ready to test your endurance and enjoy an unprecedented fitness experience, here are the Hyrox race dates in Europe for 2023:
Madrid: September 23, 2023
Copenhagen: 30 September 2023
Milan: 7 October 2023 (€84 euros)
Munchen: 14 October 2023
Birmingham: 21 October 2023
Hyrox uk & ireland open relay championships: 22 October 2023
Dublin: 28 October 2023
Valencia: 28 October 2023
Amsterdam: 04 November 2023
Paris: 11 November 2023
Hamburg: 18 November 2023
Barcelona: 18 November 2023
London: 25/26 November 2023
Stockholm: 02 December 2023
Frankfurt: 09 December 2023
Maastricht: 20 January 2024
Manchester: 27/28 January 2024
Hyrox Open European Championships: 10 February 2024
Hyrox World Championships: 07 to 09 June 2024